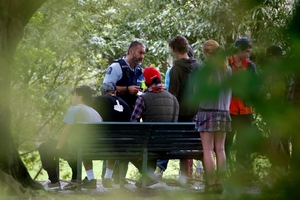 The number of students nabbed during the first week of a police sting on truants has horrified a senior officer and has included an errant 12-year-old primary school pupil.
Police are cracking down on students plundering shops while bunking school in Whangarei, where the truancy rate is running at up to 7.5 times above the national average.
In the first 45 minutes of the month-long Operation Cleanstreets, which started on Monday, police around Whangarei had caught 12 students who should have been in class. That included two who had been stood down from school and they were taken home. A further 13 students were returned to school on Tuesday, another dozen on Wednesday and 17 yesterday. A further group of 20 scattered when seen by officers in the Tikipunga area.
The Whangarei police youth crime unit's Sergeant Daniel Cleaver said truancy in Whangarei was a big problem, with some schools reporting up to 30 per cent of their students being truant per day. The national average for unexplained absences was four per cent per day.
But he was still horrified by the number of students blatantly avoiding being in class.
As part of the operation, police were yesterday joined by members of the Community Patrols, Maori Wardens and the Whangarei District Council's CitySafe. Teams targeted spots where students were known to congregate if not in class. That included the railway tracks running parallel to sports fields off Cross St, in the central city. The sight of police officers was enough to cause some students to flee back to school across muddy fields.
Mr Cleaver said the main targets for thieving in the central business district were the chain fashion stores and supermarkets. "A large number of the identified offences in the CBD are being committed by youth who are truant from school or are not enrolled in any education. We want people to enjoy our city centre and these young people need to be in school or training ..."
Police were taking a zero tolerance to any offending in the CBD and all offenders would be arrested rather than warned.
Whangarei Boys' High School headmaster Al Kirk praised the police initiative and the school appreciated any support in getting truants returned to school. "The more vigilant we are as a school and as a community the better we will all be."
Anne Cooper, principal of Whangarei Girls High School, said members of the public rang the school to alert them of truant students, businesses refused to serve youths in school uniform and that was the community's way of sending the message "students should be in school".
Whangarei mum Diane Tohu was convicted and discharged when she appeared in Whangarei District Court earlier this year after her 15-year-old son was absent for school for 21 days in a row. Ms Tohu was charged with failing to ensure a child's attendance at school.
It was the first such prosecution in Northland for more than three years, but more cases are before the courts.