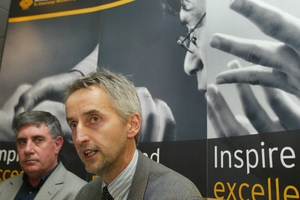 Oil and gas exploration and mining will be discussed at a national conference on Maori industry at Waitangi in a fortnight.
The two-day conference Nga Whetu Hei Whai - Charting Pathways for Maori Industry Futures 2013 will be held at Waitangi's Copthorne Hotel on September 2-3.
It will be Te Putea Whakatupu Trust's third annual conference, with organisers saying they are determined to explore new industry opportunities for Maori.
Among the more than 20 speakers will be David Springgate, senior vice-president of the NANA Development Corp, which is owned by 13,000 indigenous Inupiat in Alaska.
The firm has 11,500 employees and its businesses include oil and gas, mining, healthcare, hospitality, federal contracting and tribal services.
Other speakers will include Rosa Walker, president and CEO of the Indigenous Leadership Development Institution in Canada, Ogmundur Knutsson, dean of the School of Business and Science at the University of Akureyri in Iceland, Sir Tipene O'Regan, Maori Television CEO Jim Mather and Lincoln University Vice-Chancellor Andrew West.
The trust was established in 2004 under the Maori Fisheries Act to support education, training and work force development.
Trust chairman Richard Jefferies said the conference would challenge some views on what Maori industries would look like in the future.
"This conference will be one of the first Maori forums to put oil, gas and mining on the agenda," he said.
"The point is we need the opportunity to discuss these emerging industries among ourselves as Maori, rather than government and private sector interests driving the agenda for us.
"Our focus is on the future and its opportunities, and this is a conversation that needs to be had.
"The trust's intent is to understand the potential of these industries for Maori so we have provided an opportunity to hear from some indigenous people who've already done it."
Among those attending the conference will be 46 business, management, science and agriculture degree students who each received $10,000 scholarships from the trust and its partners this year.
"The national conference provides a valuable opportunity for these future economic leaders to learn first-hand from the experiences and insights of today's leaders," Mr Jefferies said.