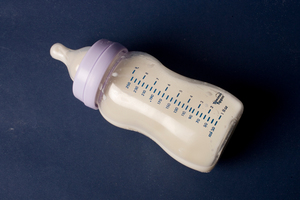 During the precision buck-passing routine surrounding the Fonterra botulism debacle, Ministry of Health advice included a statement that "cow's milk is entirely unsuitable" as an infant formula substitute.
This will be news to anyone who blithely bottle-fed cow's milk to thriving babies long before chemically processed powders (just add water) were invented.
I do not advocate feeding cow's milk to complex, delicate and quite possibly lactose-intolerant, modern babies. In fact I believe breast is best and the MoH missed a golden opportunity to say so, although it's probably understandable because impugning infant formula, even by implication, could easily imperil national financial security, which is a new category of spy-worthy skulduggery specifically included in controversial proposed GCSB legislation. Also, clearly breasts have become far more dangerous lately. In this strange new world, apparently real heroines have them chopped off.
Breasts aside though, I wonder how anyone survived the dark ages before canned baby formula, or indeed supermarkets, existed.
For instance, there was actually a time before shampoo. True! Hair was washed squeaky clean with Sunlight Soap. When newfangled shampoo appeared, there were only two kinds - green Loxene and Blue Clinic - both translucent, detergent-like liquids in glass bottles.
Despite the myth of consumer choice evidenced by glittering rows of branded miracle shampoos on display on supermarket shelves today, it seems hair still grows, waywardly, or not, pretty much as it ever did.
The grocer's boy delivered flour, on a bike. Fruit and veg came in a Morris Minor van. Before plastic cling-wrap, meat was selected from the butcher's shop where chops were openly displayed, butchers were notorious for visceral patter, carcasses hung on hooks in plain view and the floor was covered in sawdust to sop up the blood.
As a small child, I was sent "up town" to the delicatessen. I handed over money and my mother's written order, before watching the shopkeeper slice and weigh a chunk off an impressive round cheese.
I could be relied upon to deliver it safely because picking off the rind (considered the most delicious bit by our family) would have been too obvious.
Bread however was a different matter.
Dispatched to the corner bakery for fresh, warm, unwrapped, twin-humped loaves, I could not resist gently pulling the two halves apart, digging out some of the lovely soft dough to eat on the way home, then squashing the loaf back together again hoping no one would notice.
After several mysterious holes in the bread, my mother focused inquiries on me.
The very picture of sweetness and light, I suggested (improvising quickly) that perhaps the bakery had mice (after all, I knew they did at the malt factory over the road where I was sent for sugar because I'd seen my own cat there, shamelessly moonlighting on rodent patrol), whereupon my mother, galvanising into a conniption of indignation, threatened to phone the bakery to complain.
At that point I realised the awful, hitherto-unforeseen consequences of practising deception - in this case, blame falling on an innocent party and the prospect of a needless row to boot - so I just had to confess.
It was a salutary lesson which still holds water, even in the terrifying new now.