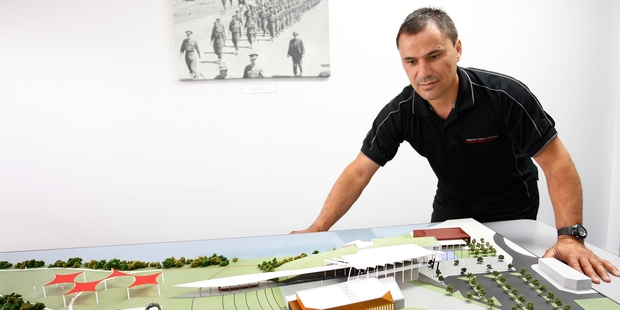 A council decision to can the Hundertwasser Arts Centre project in Whangarei could see another project for the area - a $20 million Maori cultural centre proposed for Hihiaua Reserve - gather momentum.
Hihiaua Cultural Centre Trust chairman Richard Drake said the cultural centre was never a rival to HAC and he felt that the two projects would have complemented each other.
"They are two different projects with different focuses and we have supported the council with some aspects of Hundertwasser and the council has been supportive of our plans," Ms Drake said.
He said the trust had been working slowly and methodically to get its plans in place for a multi-phase development of the centre, with the first stage revamping its Maori carving shed and erecting a waka shelter on the peninsula.
Mr Drake said the trust had designed the centre on Matauranga Maori - a term for a body of knowledge that was first brought to Aotearoa by Polynesian ancestors of present day Maori - and would show all aspects of Maori culture, knowledge and learning.
It was also expected to provide employment opportunities for Maori and Mr Drake said the trust had been talking to the people behind other cultural centres, such as Te Hana, Waitangi, Opononi and further afield, to learn how one could be made to work in Whangarei.
He said while it was not meant to be a huge tourist drawcard, that could well be the outcome of the project.
One thing the trust was looking at was the possibility of waka rides up the harbour and out to Matakohe/Limestone Island to explain the cultural significance of the island and other Whangarei Harbour sites.
"We want it to be an asset for Whangarei and the whole of Northland. We've just got to do this properly so we get the support to fully build this up. We've got the people and the plans and need the resources to develop it."
Te Tai Tokerau MP Hone Harawira is urging those disappointed at the canning of HAC to instead get behind the plan from the Hihiaua Cultural Centre Trust and believes it has more chance of getting Government funding than HAC did.
Mr Harawira said he was disappointed that the HAC process had taken up so much time and money - Whangarei District Council has already spent at least $1.6 million - but it was time for all sides to move on and get behind another project for the city.
He appreciated that HAC would have had Maori art in it, but feels that the best place to highlight Maori art, along with other local arts, was in the proposed Hihiaua cultural centre.
"Whangarei is a beautiful harbour that has been central to the early history of Aotearoa for both Maori and Pakeha and the cultural centre would be a fantastic place to highlight our Maori culture and its place in the country along with other cultures," Mr Harawira said.
"It could show people traditional Maori practices and traditions right on the harbour. It could have waka-building demonstrations and waka rides up the harbour and it would really showcase Whangarei and the north and its cultural history."
He said a Maori cultural centre was likely to have more chance of getting government funding as it would be able to apply to more funding agencies than HAC would have.
The Hihiaua Reserve is already home to the Wave and Waka Sculpture. Whangarei District Council has also recently agreed to put out for public consultation its Hihiaua Precinct Plan which outlines a strategic direction to manage growth and development in the area that covers 16.8 hectares on Whangarei Harbour just minutes from the CBD and from where HAC was planned.