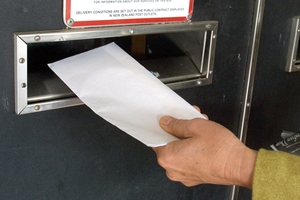 Northlanders who haven't received their voting packs for Saturday's local body elections have to act today or risk missing out on casting their vote.
About 106,000 voting forms were sent out in Northland for elections for the Whangarei and Far North District and Northland Regional councils and the Northland District Health Board.
Kaipara District Council has government-appointed commissioners in place so, while Kaipara residents will not be voting for their district council this election, they can still vote for the NDHB and NRC.
But the Northern Advocate has been contacted by about 10 people in the past few days saying they had yet to receive their voting packs.
Dale Ofsoske of Electoral Services, which runs Northland's local body elections, said he was not aware of any problems with undelivered voting packs in Northland, but anybody who had yet to receive one needed to act now.
Anyone who has not already received their voting pack should contact their local district council office as soon as possible and request a special vote or call Election Services direct on 0800 922 822.
"All the packs were sent out by NZ Post on September 20 and we have got an assurance in writing from them that all voting packs were delivered before September 25," Mr Ofsoske said. "If anybody hasn't got one yet, they need to act fast and contact us and we can send one out ASAP, or go into their local council office and ask for a special voting pack."
Postal votes need to be sent in before the end of business today so Mr Ofsoske said it may be better for people to go straight to their local council office instead. Mr Ofsoske said if people had moved since last updating their electoral details the voting pack would go to their old home.
Meanwhile, Northland electors are still slow at casting their votes.
As of yesterday 16,345 votes had been cast for the Whangarei District Council, or 29.68 per cent of the 55,079 eligible voters. At the same stage in the 2010 election, 34.8 per cent of the then 53,916 voters had voted.