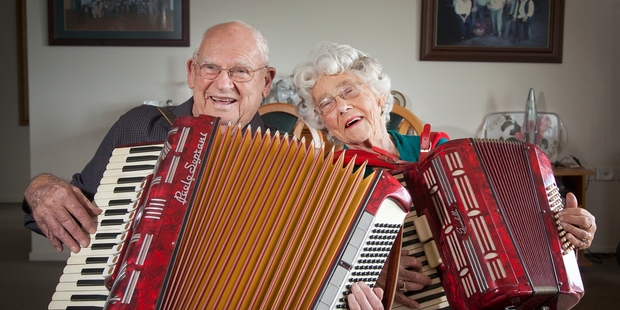 For Lindsay Vile, the recipe for a happy 65 years of marriage is patience, tolerance and understanding.
The Tauranga man then checked with his wife Shirley if that was right, before they and their two daughters sitting by them cracked up laughing.
"That's exactly how it is," daughter Sharon said about her parents and their 65th wedding anniversary today.
Mr and Mrs Vile will celebrate the occasion in Pyes Pa with 95 family and friends, including 20 great-grandchildren and the flower girl from their wedding.
The two met at a welcome home dance for World War II servicemen. Mrs Vile said it wasn't love at first sight but more of an organic, natural affection that blossomed.
"It was just a slow [burner]. Everything just flowed," she said.
After three years of wooing, the farming couple married on April 26, 1949, in Marton. Eight years later they bought a sheep and beef farm in Taumarunui, where they worked together and raised their two daughters and a son before moving to Tauranga in 1976.
Mr Vile looked after the farm and finances while Mrs Vile looked after the home, family and feeding the workers. The couple have always worked together, which was another key factor in a happy marriage, Mrs Vile said.
This and a collective appreciation for music by playing the accordion was what she thought helped cement a strong marriage.
"We love music," she said.
While Mrs Vile could read sheet music, Mr Vile learned to play by ear. They regularly played at fundraisers or for elderly in retirement homes and encouraged their children, who formed a band.
The children have grown up and have children of their own. The Viles now head a family spanning 32 people in four generations, all of whom will help celebrate the diamond anniversary today.
Mr Vile said he could still remember nervously plucking up the courage to ask Mrs Vile's father for her hand in marriage.
"I'd walked around the farm so much preparing that I walked all the way back again," he said.
Mrs Vile's father said "it's all right" and Mr Vile popped the question on her 18th birthday.
"She bought a nice black frock that day," Mr Vile said.
"We went to Palmerston North to buy the ring and she got this frock. She looked pretty good in it too. She still looks good in my book."
For more articles from this region, go to Bay of Plenty Times