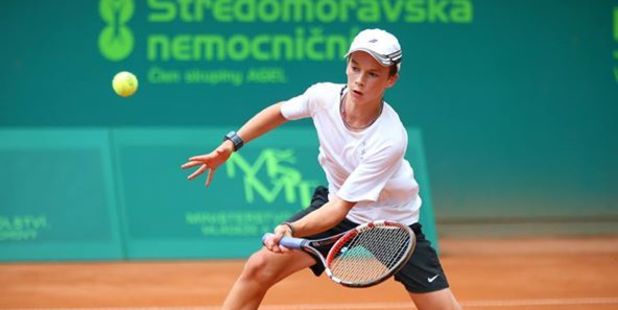 Huge sacrifices are paying off for Hawke's Bay tennis player Finn Reynolds ... big time.
The Hawke's Bay Lawn club player and national under-14 singles and doubles champion, who moved to Auckland back in February to "take the next step", this week, beat the United States No1 at the world under-14 championship in the Czech Republic. Reynolds beat Steven Sun 3-6, 6-1, 6-2 to register the New Zealand team's only win in a 2-1 loss to the United States.
In their next outing the Kiwis beat Spain 2-1. Reynolds had one match point against the Spanish No1 before losing the third-set tie breaker 7-5 in a clash which lasted two hours and 30 minutes.
His teammate Macsen Sisam of Northland won in three sets to square the tie before the Kiwis combined to win a thrilling two-hour three-set doubles match to clinch the tie. New Zealand lost 3-0 to Brazil in their final pool tie.
Reynolds' father Andy, who quit his job in Napier to support his son in the big smoke, has been watching the Kiwis' progress via live-streaming.
"They did well just to qualify and despite the world champs being a big ask they've done well. They've achieved what they set out to do against some of the best teams in the world," Reynolds snr said.
And Dad's take on the young fellah's progress to date?
"Like Finn, you always want more but he has done pretty well. Even to come close to some of these youngsters is an achievement," Reynolds snr said.
A Year 10 student, Reynolds transferred from Napier Boys' High School to Rangitoto College so he could train three times a week at the Millennium Institute of Sport in the morning before school and every day after school with Tennis New Zealand high-performance coach Marcel Vos, who is also the coach of the New Zealand under-14 team.
His father said this sacrifice, in addition to his son spending three months in Europe this year to become more familiar with the clay surface, has been a key factor in the left-hander's success. He pointed out Reynolds had also enjoyed having his mother, former Hawke's Bay representative Louise Reynolds, and an uncle among the spectators.
New Zealand were taking on Thailand last night in their first tie of the ninth-to-12th playoffs.
"They have a chance of finishing in the top 10 nations in the world for this age group. This would be a stunning result," Reynolds' Hawke's Bay-based coach Simon Winter said.
New Zealand qualified for the 16-nation world championships by finishing second at an India-hosted qualifying tournament where the top four teams qualified in April. This was the first time in eight years New Zealand had qualified in this age group.
Earlier this year, Reynolds was one of four players selected in Tennis New Zealand's Junior Targeted Athlete Programme. All four have the potential to be ranked inside the top 150 players in the world in years to come.