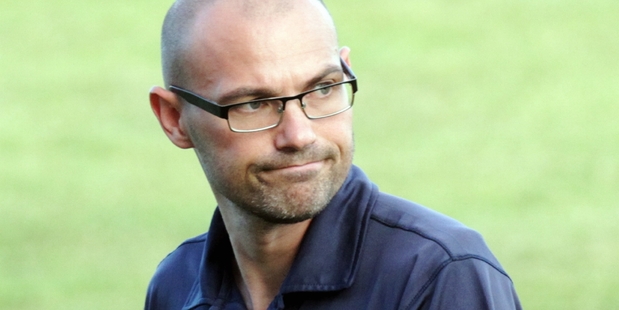 He helped create soccer history last summer, but coach Chris Greatholder is surplus to requirements.
"I heard on Twitter that I was sacked and my contract had expired in April," the Kinetic Electrical Hawke's Bay United coach said yesterday, the morning after failing to retain the annual Bay team-of-the-year title in Napier.
"Look I'm a pretty private guy and I have three kids so I don't want to play it out in the newspaper.
"I'm big and ugly enough to know when I'm not wanted around," Greatholder said after taking the Bay franchise to its maiden ASB Premiership playoffs in the history of the national summer league.
Central Football development manager Brett Angel, of Napier, is among three candidates from outside the province hoping to succeed Greatholder.
The Napier bank manager said a fortnight after the season ended at the end of last February, he underwent a debriefing with the then-outgoing chairman, Peter Grant, and his deputy, Bob Patterson.
"Three months on I've had very little communication. The board kind of closed ranks so not me, the coaching staff or the players will continue.
"It's frustrating and disappointing. It's embarrassing that nobody knows what the structure, vision and budget is going to be," he said.
Greatholder said he had left the debriefing on the understanding he was keen to carry on as coach but wanted to know if the position would be fulltime because the current part-time one put too much pressure on him to organise "everyday chores".
"I was run down, busy and stressed last year so we needed to change the way we operate before I was going to agree to a new contract so they said they'd get back to me," said Greatholder who took a month's break before Christmas because of "burnout" from performing three roles.
Instead, he said the board decided to go in a different direction.
"I heard through the grapevine that the coaching staff of last year won't be involved."
Franchise general manager John McGifford yesterday said he could only convey what the board had informed him on Greatholder.
"It was conveyed through the board to me that Chris didn't want to go forward," McGifford said, but was interested in a role with the franchise in some capacity.
"Comments that Chris has been sacked are untrue. He's just coming out of a contract in April.
"What's said on Twitter are just assumptions," he said, after former EPL coach Bobby Gould expressed his views, too.
Some players are also disappointed with the changing of guards
McGifford said he had spoken with Greatholder "a reasonable amount of time" and he had indicated he wanted to continue his involvement with the franchise.
Patterson, who is now chairman with Wayne Baird as his assistant, could not be reached for comment last night.
The other board members are McGifford, secretary Terry Parkin and directors Chris Guillemot, Russell Jaggard, Darren Mason and Paula Werahiko as well as new events and marketing manager Matt Hastings who has replaced Kim Treweek.
McGifford confirmed the three potential candidates for the coaching role, adding the franchise would announce Greatholder's successor by the end of this week.
Bay United "can't afford" to employ a fulltime coach.
He said while the contracts of Greatholder's support staff had ended that didn't mean they wouldn't continue but that would be the coach's call.
"Whoever's the head coach will be urged to strongly push that Chris be involved in some way.
"Chris is absolutely outstanding in what he has brought in his role and the culture he has built."
McGifford said Central Football staff would be contracted to relieve the pressure on the coach.
Greatholder said: "Maybe we're a victim of our own success. Four years ago nobody thought we'd be preparing for the Oceania League."