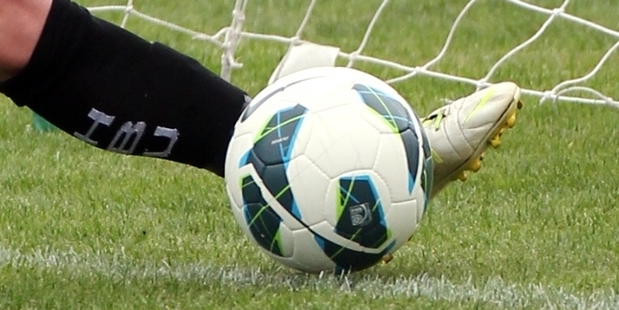 It's not often one catches coaching staff exchanging a salvo from their dog boxes, strategically positioned 5m apart in a soccer match.
Whether the visiting Wanderers Soccer Club coach Darren Bazeley and his assistant, Willy Gerdsen, planting their chairs closer towards the sideline, were testing fourth official Robert Scholes yesterday in Napier is another matter to be verified some other time.
What is indisputable is that Kinetic Electrical Hawke's Bay United coach Chris Greatholder and his counterparts didn't bite their lower lip at the Bluewater Stadium, Park Island.
Any perceived air of pleasantries gave way to a verbal barrage in the 43rd minute when Bay defender Harry Edge brought down a rival midfielder from behind as referee Anthony Riley blew up to award Wanderers a free kick.
"He gave you a free kick, what you're moaning about?" Greatholder barked after the hosts scraped home with a 1-0 victory over a youthful Wanderers.
The Bay United coach explained after the final whistle that the coaching pair were rubbing in the fact that striker Sean Lovemore was going to serve a game suspension for the accumulation of four yellow cards before Sunday's 2pm kick-off against Waitakere United in Napier.
The Bill Robertson-captained Bay will rue picking up silly yellow cards as players were often caught remonstrating with the whistle-blower when there were times they should have simply walked away.
It's rare to find referees nowadays who, rightly so, will reverse their decision because players vent their spleen.
While field officials may empathise or mollycoddle younger players in physical battles, they also expect the seasoned campaigners to show composure.
No doubt Robertson, Lovemore and defender Aaron Jones will have learned when New Zealand Under-20 quality players put in a solid tackle that howling at the referee isn't going to earn them free kicks.
While both teams played a quality passing game they failed to find enough cohesiveness or polished finishes to turn around what was effectively a dour game.
In fact, Bay United should consider themselves lucky to have claimed three points to bounce back on the third rung of the premiership table to keep their playoff hopes alive.
Robertson was impressed with the young visiting team.
"I didn't play against them earlier in the season but the table certainly doesn't reflect how well they are playing," he said of the Bazeley-coached Wanderers, who are sitting last on the ladder and have yet to claim victory on the field.
Ironically they have points for a win against Bay United who forfeited points for bringing Edge off the bench in North Harbour when his paperwork was pending for a transfer.
Robertson said his troops were good in the first half but wilted a little under pressure in the second spell.
"It's the business end of the season and if you have aspirations to win, which is what we want to do, then you have to be the best side."
In the 12th minute, Bay midfielder Sean Morris' free kick scaled the six-men wall but agonisingly hit the crossbar amid groans from the Bluewater faithful.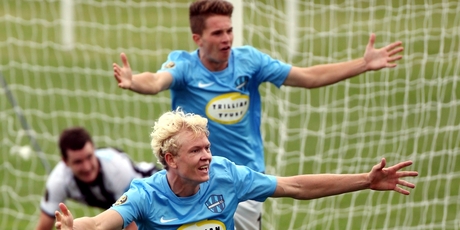 Four minutes later, Wanderers right winger Riley Kelliher missed a sitter from inside the 18m box after pouncing on an earlier drive which deflected off the back of a Bay defender.
In the 29th minute, Lovemore did the hard work to thread the ball inside out before feeding it to Morris whose drive had goalkeeper Cameron Hogg diving to parry.
Diligent midfielder Tom Biss was pivotal in breaking the deadlock three minutes into the second spell, when he curled a pass from the left flank for Harley Rodeka to slot past a disgusted Hogg.
In the 68th minute, Wanderers striker Nick Sugden had Bay keeper Richard Gillespie stretched to the max with a diving save to push the ball past the far post.
In the 85th rightback Fergus Neil, the ghost who walks, got up from a collision with Gillespie to clear a ball rolling into an open goalmouth amid howls of protest for a goal but referee's assistant Mark Rule commendably kept his flag down without any help of non-existent TMOs.
A minute later, right winger Brock Messenger nodded a curling cross into the goal past Gillespie but Rule this time rightly had his flag up for an offside.
Robertson said Bay United remain adamant they could win the competition.
Bazeley said it took his boys a while to adapt to the physicality of the game in the first half.
"We got through first half without competing and being able to play," he said, adding the goal stung them into creating six scoring chances.
"In the second half Hawke's Bay didn't have a chance except for the goal."
While disappointed with the winless streak, Bazeley took heart that his team didn't step backward to Bay's challenges.
The hosts punished them when they switched off for 10-15 seconds.