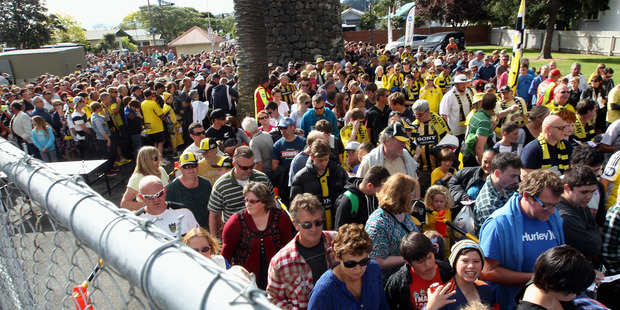 CAN someone please shed even a ray of light on what's eating soccer followers in Hawke's Bay?
From where I was sitting in the media booth at McLean Park, Napier, on Labour Day weekend, the golden glow the Wellington Phoenix faithful emitted had an aura of envy about it.
Sure, a good section of chanters and chorus belonged to the Yellow Fever fan base but a healthy percentage of the close to 10,000 crowd was from the Bay.
You see, for me, that's where a warped sense of acceptable behaviour kicks in.
It scarcely matters that the game, at best, was mediocre but it's also painfully obvious new coach Ernie Merrick is attempting to exorcise his players of a defensive demon that possessed their bodies some time ago.
Scotsman Merrick deserves time and all the support he can get to help propagate an attacking culture to change the Wellington franchise's fortunes.
My preoccupation is with those who paid beer money to watch the A-League clash, some of them as walk-up crowd to be part of an atmosphere seldom witnessed here in the contemporary soccer circles.
So why is it that the same people are not forking out a week's parking meter change to watch the Kinetic Electrical Hawke's Bay United franchise team during their ASB Premiership campaign in summer?
Bay United coach Chris Greatholder did an admirable job in helping steer his team to their first play-offs last summer in the history of the ASB Premiership national summer league.
Like Merrick, he deserves all the backing he can get against certain odds to replicate last season's effort, if not take Bay United to another level up.
What baffles me is how blokes, sheilas and their offspring had no qualms about turning up with hampers to soak up the atmosphere but yet don't feel compelled enough to emulate that only a few kilometres away at the Bluewater Stadium, Park Island, once a week.
Even a fraction of that crowd will easily spark an electric mood in Park Island that will, no doubt, lift the spirit of the players.
It is, after all, a venue where Bay United have lost only one game in almost two years to establish a fortress-like arena where opposition teams obviously dread visiting.
Perhaps there's a school of thought that feels previous franchise teams haven't played an attractive brand of football so, like Merrick, there's a need to inject that element of entertainment.
Maybe another school believes the franchise needs to recruit more players from the region to ensure there's a sense of identity in the team.
Yet another argument could be that the franchise needs to perhaps do things a little better, like adopt a glasnost and perestroika approach to administering the beautiful game.
Okay, fair enough, because they seem to be quite reasonable demands looking from outside.
To sit around grumbling about what can be done is hardly productive.
It's quite simple, really.
Jump into the fray. By filing through the turnstiles of Bluewater Stadium, spectators will be able to make a collective statement by their mere presence.
The franchise, whether it has its finger on fans' pulse or not, has dealt the first hand of cards in another season of poker to woo them to Park Island.
The new time of 5pm kick-offs on mostly Saturdays, rather than previously perceived family Sundays, sounds appetising but, then again, is that what the collective wants?
They certainly won't be able to figure it out via osmosis and will have to rely on some valuable feedback from the fans.
The home-grown talent issue won't happen overnight, notwithstanding picking the temperament of players isn't always a given in an age when a fistful of dollars from other regions or overseas is all it takes for them to switch allegiances.
The demands can be endless and somewhat difficult to change this season but taking ownership of one's provincial fortunes should always be the domain of the spectators, not those of the franchise, players or the coaching stable.
Just like voters during local government and general elections, you can't bitch and bellyache on the state of affairs if you didn't make an effort to turn up at the poll booth to cast your ballot paper.