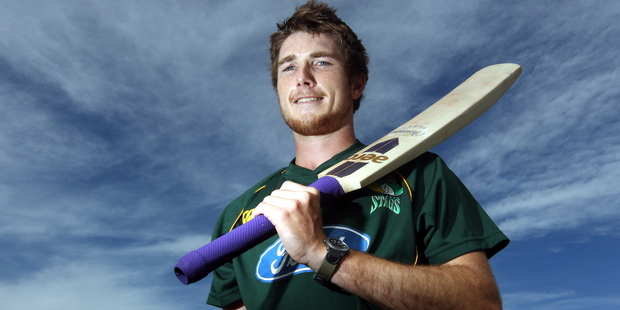 If milestones are anything to go by then it's fair to say the Wellington Firebirds were always going to win the Plunket Shield cricket match yesterday.
They did by five wickets at the Hawkins Basin Reserve in Wellington but that wouldn't have been possible if Devon Hotel Central Districts Stags captain Kieran Noema-Barnett hadn't made a relatively sporting declaration of 310.
Sure, some will inevitably question how educated the declaration was, albeit the first two games of the opening round of the four-day competition had ended in stalemates.
Nevertheless, in the weekend encounter, Mark Gillespie claimed his 18th five-wicket, first-class haul on Saturday, Brent Arnel claimed his 250th first-class scalp when he nailed Carl Cachopa for the second time, veteran spinner Jeetan Patel brought up his 400th wicket in dismissing William Young and Michael Pollard eclipsed the 1000th first-class run mark on reaching 43.
Conversely, Stags opening batsman Ben Smith improved on his highest first-class score of 69 runs with an unbeaten 133.
The 22-year-old Ruahine Motors Ford Central Hawke's Bay player provided the platform for CD's declaration for five wickets from 277 balls, including 20 boundaries, while occupying the crease for 398 minutes.
But new CD coach Heinrich Malan was last night adamant for the need to look beyond the result of a first-up loss for the shield-defending champions.
"At the end of the day it's not great to lose any game of cricket," Malan said after a sporadically rain-interrupted affair.
Instead, he championed a "positive brand" of cricket that ultimately reflected the visitors' declaration to eke out a result when they could easily have dug their toes into the crease for the inevitable no cigar on the foundation of shared points.
"We didn't bowl as well and we didn't execute our plans as well as we wanted to either."
No doubt the Stags, who attended an NZCPA meeting after the game, were despondent last night, having to listen to the Jamie Siddons-coached Firebirds singing in the adjacent changing rooms while conducting prayers with Malan on what could have been different for a favourable outcome.
"We're definitely going to keep to our strategy of playing a positive brand and getting ourselves into a winning pattern."
In Malan's cricketing economy of scale, albeit in imperial currency, if the Stags take care of the pennies then the pounds will fall into place in the bigger scheme of things.
Consequently the lower denominations accrued in the piggy bank following the opening shield game are Smith and Young.
He also lauded the performance of former New Zealand age-group captain Young in the first innings when the top-dollar batsmen failed to occupy the crease for lengthy spells. "Will Young was fantastic with his 70-odd [78 runs] on the first day which was overcast and rainy so his effort was exceptional.
"The knock of 133 not out from Ben was unbelievable and he could have gone on to probably score 200 so he's looking pretty set for experience," he said, immensely proud of the young blokes who put individualism aside for the collective.
On Saturday after resuming day three on 149-2 and unarguably in the box seat, the James Franklin-skippered Wellington were in for a rude shock when Black Caps test seamer Doug Bracewell and legpsinner Tarun Nethula claimed four wickets each to restrict the hosts to 293 to trail by four runs.
Smith (70) and Cachopa (54) put on 97 for the second wicket to help the visitors through to 170-3 at stumps.
Bracewell and Nethula didn't find much traction but, more significantly, others didn't put their hand up as such.
"You know, we're used to Dougie for so long so it's time for the Wheelers and Mathiesons to be successful."
The input of English import Peter Trego was also minimal.
Malan said Wellington were a decent side but dwelling on their attributes wasn't their style.
"Ten out of 10 times I would have backed us to defend 310."
He alluded to the Kallises, Tendulkars and Pietersens who built world-class careers on consistency.
CD now play T20 matches against ND Knights (Saturday) and the Firebirds (Friday November 22).