SBW plays to his own pig-headed beat again.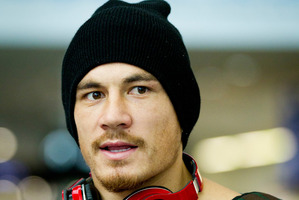 The sporting mercenary has struck again, this time blowing up Hawke's Bay's homegrown talent to smithereens.
What's worse is New Zealand Rugby League cowering to Sonny Bill Williams' ransom note.
Yes, that SBW juggernaut just keeps reducing everything and anyone to doormats on its ogre-like path to platinum status.
The 2013 NRL champion Sydney Roosters player was a little distracted when asked if he wanted to help the defending champions, the Kiwis, at the rugby league World Cup.
Only 24 hours after declaring he was unavailable to represent his country because he wanted to rest his magnificent torso, the Mighty Tattooed One executed a U-turn that would have had Formula One drivers peeling off their helmets in unison to take a bow in the pitlanes of high-octane humility.
Wow, here's a bloke who has put his country before his battle-weary body and plans of a first break since 2008 to go on a holiday with his whanau.
"Without thinking the whole situation through thoroughly, I eagerly jumped at the chance to chill out and rest," said SBW, sharing his noble gesture on Twitter in a bid to score patriotic points.
No mate, you didn't think at all. Tell us again, who advises you?
It seems they are just as bad.
"After having some time to really think about how much representing my country means to me, I decided to then put my name forward for selection."
Oops, see you later Tohu Harris, of Hastings. The Melbourne Storm secondrower becomes the sacrificial lamb and will, gut-wrenchingly, just have to wait for the next World Cup.
It hardly matters that Harris' parents, Dale Moffatt and Paul Harris, had booked their flights for the cup tournament late this month in Britain.
For the record, his father courted global attention in February, when he made a last-minute 31-hour journey to Leeds in time to watch his son help the Storm beat Leeds 18-14 in front of 20,400 fans at Headingley in the World Club Challenge.
NZRL couldn't buy that sort of loyalty. The sad reality is it costs them nothing.
Hey, what does it matter that some "fringe player" exchanged a flurry of text messages, emails and phone calls with family, friends and fans early this week to share the joy of making the cut for the Kiwis.
I mean, Kiwis coach Stephen Kearney, engaging in "a conversation no coach would like to have", had the onerous task of breaking Harris' heart and childhood dream.
No doubt, feeling rotten but the overriding joy on hearing SBW is up for the 24-man World Cup squad must have drawn on every fibre of Kearney's inner sanctum to destroy another soul.
Dropped like a hot potato chip, the former Hastings Boys' High School pupil had better be understanding if he fancies another chance of a recall to the Kiwis, let alone the eight-week World Cup.
Let's face it, all the media reports about SBW's iffy status for the NRL play-offs and grand final for the past fortnight was nothing but hype.
He has sporadically played like a man possessed, stamping his supremacy across two codes if not three.
Spare me the drivel about his offloading ability. Scores of NRL wallahs do it sleepwalking.
The jury is still out on his boxing ability. Duco Events' Dean Lonergan baiting him to fight Joseph Parker in a $1 million unification bout following his unconvincing show against veteran Francois "The White Buffalo" Botha was ill-timed.
Maybe that impaired SBW's judgment on the Kiwis' tour of duty.
Frankly, with the Super Rugby, Rugby World Cup and NRL bragging rights, Williams is way past chasing money.
It's a given he brings selective skills and is a crowd puller among an elite globally.
"It's not only his footballing ability but also what he brings off the field which will benefit the team," Kearney said in his and NZRL's defence.
Really?
Remind me, didn't the Kiwis win the World Cup in 2008 without the help of SBW?
Ditto the Chiefs this year in Super Rugby.
I was already of the view that intermittent publicity of his injuries in the NRL play-offs smacked of a blatant but shamefully transparent PR exercise to ease him out of the Kiwis' equation.
Isn't it ironic that when Harris made his Kiwis debut against the Kangaroos in April, SBW was unavailable with a one-week knee injury?
The man who had left Canterbury Bulldogs in a huff in 2008 has to be of the belief that he's bigger than the game.
Ego pilgrimage aside, what kind of buffoons display an inferiority complex before a World Cup?
Like a mercenary of football, the man's about-face comes amid speculation he'll be returning to Super Rugby although who exactly is uncertain until the circus rolls into town.
Will it be the Chiefs out of loyalty or will it be the Blues to expand the global brand of SBW? Does anyone care?
In slashing the Kiwis' world cup odds by 25c, TAB's Kevin Gutschlag says: "The man is a winner. Everything he gets involved in, with few exceptions, is successful."
It's the "few exceptions" that must worry the prudent and ethical.
Humility comes in many forms. I saw and felt it in budding professional Kiwi boxer Joseph Parker this year.
It's not too late for you, SBW.
What the heck, go a step further. Eat humble pie, do another remarkable U-turn you are so adept at and give right of way to Harris in the cup squad.