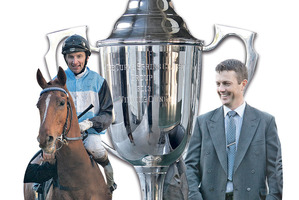 Knockers are something Hastings horse trainer John Bary is all too familiar with, especially when one of his favourites fails to live up to the TAB odds in a group one race.
"That's New Zealand and you expect that," Bary says, mindful not long ago that his champion horse, Jimmy Choux, had his share of detractors when things didn't follow the script.
But with Survived fading to ninth place in the Windsor Park Plate a fortnight ago in the second of the Rush Munro's Hawke's Bay Spring Racing Carnival trilogy meetings, the knockers are back with a vengeance.
Needless to say, Bary takes them in his stride as he would a vial of cough medicine, while pinching his nose.
"It's always a shame, I suppose, that you have to prove yourself and your horse again but, I suppose, you can't ... it's always going to be, so all we can do is do our best," he says before Survived and jockey Opie Bosson try to claim the final leg of the spring carnival, the Turks Bar Spring Classic, in Hastings today at 5.12pm.
But between salvos a different kind of knock has left Bary and Survived somewhat perked up.
Christchurch chiropractor Tommy Behrns is one knocker who is welcome to his Timoti Farms along Mutiny Rd in Hastings.
Behrns made a mercy dash from Palmerston North, braving the thunderstorm, to attend to Survived three days after the 1600m Windsor Park Plate race left the stable star in agony.
Bary says his gelding was so sore he sat almost like a dog afterthe plate race before the chiropractor worked his magic on the horse's torso with the tools of his trade - a clicker used in trigger-like fashion these days even on humans.
"He was a very, very sore horse in his back.
"He's had his treatment ... and it makes a big difference because he's back to his best like before.
"I'm not saying it works on every horse but, now and then, he gets one right so we're very happy he made the effort to do our horse," he says of Behrns, who took about five minutes to treat Survived before making a beeline back for the Manawatu Gorge about 8pm.
The combination won the opening premier race, the Makfi Challenge Stakes, on August 31, but Xanadu spoiled Bary's party in the rain-affected Windsor Park Plate that prompted the last race of the meeting to be cancelled.
Bosson informed Bary that Survived had slipped twice in the running, knocking himself as many times on his back legs.
"I don't like giving excuses when I don't win a race because I prefer to say we were just not good enough on the day."
But Bary is adamant punters need to know legitimate reasons for a horse's shortcomings.
"Twice he slipped out there and lost his confidence a bit.
"Horses aren't dumb animals. They won't [go hard out] if they aren't feeling safe so that's what happened there."
Bary says the slippery track on September 21 didn't do Hawke's Bay Racing any favours after an uncharacteristically boggy offering during the Makfi Challenge Stakes.
"They cancelled the last race straight after [the Windsor Park Plate premier race] so it just goes to show that's what happened."
Several jockeys, including Bosson, lamented treacherous conditions after the plate race.
"It's the luck of the draw and that happens so, unfortunately, it happened on the last races that day."
It didn't worry Bary that Survived had drawn the widest barrier in the plate race because he knew the Don Gordon-bred and owned horse had the ability to sit back before relying on a turn of foot to blitz the field.
As much as it'll be a personal satisfaction to win another group one, Bary says victory today would be an opportune time to boost his horse's resume.
The better the track the better it'll be for Survived, something Bosson also buys into.
"I really hope for the club's sake that it'll be a beautiful day just for the crowds because it's our biggest day and that's what we need for Hawke's Bay on the world stage because the Aussies will be watching it, too," he says.
"If we get some good footing I really believe you'll see our horse do what we really think he can do."
Bary reckons today's 2040m should be just the ticket for Survived, a stayer who has won over 1000m to 2200m.
"Technically there's not a lot of speed in the race and not an actual leader.
"That helps us a bit, so we'll just have to take that [distance] as it comes," Bary says.
While the horse is capable of coming from behind, the reality is several other riders will adopt a similar mindset.
"I think it'll be up to Opie how the horse jumps and settles.
"We've changed his [Survived's] work a little because we don't want him too fresh because he's on a longer distance.
"We've done a couple of things different so, hopefully, that'll pay off and I believe they will because I have huge faith in this horse."
Having drawn barrier 10 of 14, Bary isn't too fussed today considering it isn't as significant as it was over 1600m in the Windsor Park Plate from the widest barrier of 12.
"It's good this time because we'll get to find our feet and sort things out," he says, adding that Bosson and Survived will have about 250m to jostle into position.
"Opie's one of the best at it and no doubt he'll do his job to get us into a good position."
For Bary, a group one is a group one so he doesn't care if there are only two horses in it should they win.
"It's probably not the strongest spring classic field we've seen but, having said that, you look at who's gone to Australia so there might have been only one or two here."
So where have the pedigree horses gone?
Bary is bereft of ideas but he hastens to add he has huge respect for Nashville.
"It's a group one so anything can put its hand up but he's the obvious danger."
A sense of parochialism overwhelms Bary who unashamedly echoes the sentiments of home-town favouritism.
"If I don't win it then I hope Guy Lowry wins it with Pimms Time because he's a great guy and a mate," he says of Lowry, who co-trains the mare with Grant Cullen, also of Hastings.
Thrive is the other Bay entry, albeit a late one, but has Bary's sympathy for drawing the widest gate at No14.
"As long as it's locally owned and trained then I'm not too fussed. But, you know what? They have got to be good to beat my horse. My guy is back to his 100 per cent.
"There's no triple crown but as Meatloaf said, mate, 'two out of three ain't bad'," Bary says.
Lowry is upbeat about Pimms Time's conditioning.
"We're very happy. She's fit and well so we just hope she'll put her best foot forward and win us some money," he says after Pimms Time finished seventh in the Windsor Park Plate.
Lowry and Cullen have maintained the 2040m distance is what suits their horse.
"It's not an overly strong field so it gives us a chance," says Lowry but he feels Pimms Time prefers a softer surface than what the forecast is promising.
Predictions of a few showers earlier in the week evaporated, so he isn't holding his breath on any dramatic change to the track.
The Jason Bridgman-trained Thrive, he feels, has been running well so "nothing will surprise me" if she wins.
However, Lowry says Survived remains favourite and will be the hardest to beat.
Lowry and Cullen have six other horses in today's other races.