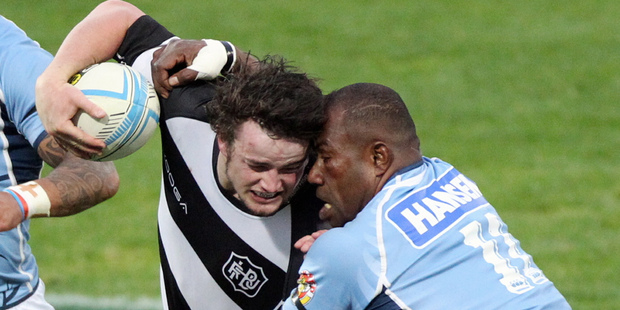 Magpies 31 Northland 26
McLean Park, Napier
Hawke's Bay Magpies rugby coach Craig Philpott admitted there was a lot of yelling from him in the dressing room at halftime during this ITM Cup clash last night.
Before Philpott got into the McLean Park dressing room at the interval his troops produced a shocking first half and trailed 23-6. They appeared to lack urgency, their defence was soft and they were too slow and incohesive at breakdown time.
"There was lots of yelling but basically I told them to be more patient and more accurate. We gave them too much possession and allowed them to get out of their own half too easily," Philpott said.
He agreed if the Magpies had played for 80 minutes, like they did in the second half when they produced one of their best houdini acts in recent history, they might have secured the bonus point for four tries.
"But in saying that we must not forget that was a good Northland side and they targeted us," Philpott added.
Magpies captain and blindside flanker Mike Coman agreed the first half wasn't acceptable.
"You cannot perform like that at this level. Fortunately we were good enough to come back. As a forward in the first half it felt like it was tough to get involved at times because we were going wide too much.
"In the second half us forwards got involved more and we got our second wind. I was happy for the people who showed up as we had a disappointing week which hurt a lot of us. So it was good to get back on the horse," Coman said.
While all of the Magpies deserve praise for the heart and character they displayed in the second half first five-eighth Ihaia West and centre Richard Buckman were at the top of the list of heroes.
West produced another player-of-the-match performance. He kicked 16 points with six successes from eight attempts at goal.
One of his misses was done on purpose on the final play with a penalty attempt kicked dead to avoid any hope Northland had of a late comeback. Buckman deserved the match-winning try in the 78th minute after another tireless display which saw him make the most of his limited opportunities on attack and he again became another loosie on regular occasions at the breakdown.
Prop Brendon Edmonds and openside flanker Brendon O'Connor had massive work rates. Hooker Ash Dixon provided plenty of impact off the bench as did Chiefs utility back Andrew Horrell in his first appearance of the season for the Magpies. Both halfbacks, Chris Eaton and Alby Mathewson, provided quality service.
Wingers Zac Guildford and Telusa Veainu were both eager for work on attack and Veainu's 75th minute try which West converted from the sideline to tie the score at 26-all was a cracker.
Among Northland's best were No 8 Jake Paringatai, hooker Matt Moulds and first five-eighth Daniel Hawkins who succeeded with all five of his attempts at goal.
Northland assistant coach and former Magpies captain and assistant coach George Konia was naturally disappointed with the visitors loss.
"We came here to win and at halftime we were in a good position to win it. In the second half we made a lot of mistakes, didn't maintain the pressure and let them off the hook."
An indication of how desperate both sides were to win the match was the number of changes made to the teams printed in the programme. Northland had eight to their starting XV including captain Rene Ranger's switch from centre to wing.
Hawke's Bay had four. The Magpies started All Black prop Ben Franks who wasn't originally named in the 22.
Franks left the field in the 52nd minute with a calf injury. Regular Magpies fullback Gillies Kaka will miss the remainder of the ITM Cup with a shoulder injury collected in the midweek loss to Taranaki and is aiming to be back in action with the All Black Sevens in November.
The Magpies were fortunate Konia and his head coach, former All Black hooker Derren Witcombe, opted to start Ranger on the wing. He would have been more of a threat in the midfield.
After a rugged week eight days which included three games the Magpies have six days to prepare for Sunday's away match against Tasman in Nelson.