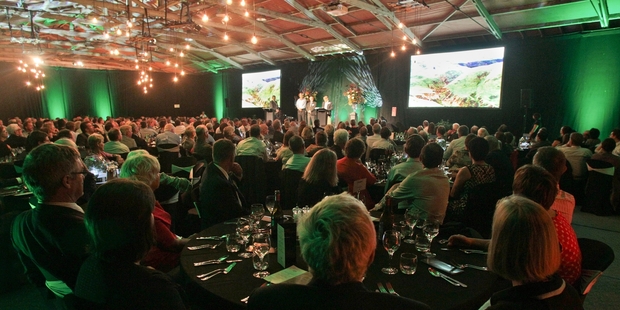 Central Hawke's Bay farmers Hugh and Sharon Ritchie took out the prestigious Silver Fern Farms Farmer of the Year Award at last night's glamorous ceremony at the Hawke's Bay Showgrounds.
The husband and wife team run a farm on Drumpeel Rd, Otane.
Silver Fern Farms Hawke's Bay Farmer of the Year committee chairman Peter Tod said the Ritchie's farm was a large-scale business that used the latest technology to optimise efficiency and profitability. "All this is achieved with a strong focus on sustainable farming and a passion for the environment and his [Mr Ritchie's] soils," Mr Tod said.
Guests at the awards were treated to fine food and wine as part of a menu that was unaltered by yesterday's regional power outage.
Silver Fern Farms chairman Rob Hewett was excited to attend the awards for the first time. "It's a great venue, and Hawke's Bay is a great province," Mr Hewett said.
"We're here to celebrate success in farming. That's why we [Silver Fern Farms] are committed to sponsoring the event."
Mr Hewett was visiting Hawke's Bay from Otago. "I love coming here. The people are nice and it's a great spot."
Also in attendance were Hastings Mayor Lawrence Yule and guest speaker and All Black Sevens coach Sir Gordon Tietjens.
Mathew and Gemma Barham, winners of the Farmer of the Year Award in 2012, had been looking forward to attending the awards for the fifth time. "It's a great event. We look forward to it every year, and always will," Mr Barham said. "It's now a huge occasion since it was held in the Cheval Room. The Exhibition Hall is a fantastic venue."
Patrick Crawshaw, a third year Lincoln University student, received the Lawson Robinson Hawke's Bay A&P Society Scholarship, which included $3000 toward his course fees. Set up by a partnership between the Hawke's Bay A&P Society and Lawson Robinson Barristers & Solicitors, the award aimed to recognise outstanding academic achievement by a student enrolled in a land-based study program.
The Pan Pac Hawke's Bay Farm Forester of the year was scooped by Hugh and Di McBain. The Laurie Dowling Memorial Award for outstanding contribution to agriculture in Hawke's Bay was awarded to Mike Barham. Mr Barham had spent five years with the East Coast Rural Support Trust, through several drought years, coordinating feed for North Island farms. He had also assisted farmers during the April weather bomb that hit the East Coast from Porangahau to Ocean Beach in 2011.