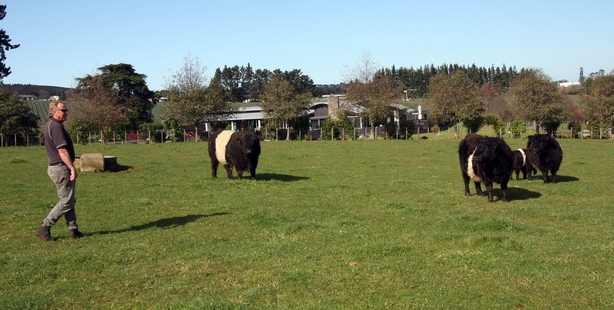 While data from the Real Estate Institute shows a 41 per cent rise in farm sales over the last three months, these figures aren't reflected throughout the Tararua and wider Hawke's Bay, a local real estate principal says.
The REINZ figures show there were 155 more farms sold around New Zealand in the three months until the end of February than for the same period last year.
However, the main increase in sales has occurred in the South Island, Dannevirke's Craig Boyden principal of For Homes For Farms said.
"There have been just a flutter of sales in the North Island and many of those have been driven by dairying," he said.
Otago and Taranaki recorded the largest increase in sales (+28), followed by Northland (+16) and Bay of Plenty and Southland (+15).
The solid volume of farm sales for the three-month period ending February 2014 reflected continuing confidence in the rural sector REINZ rural spokesman Brian Peacocke said.
And Mr Boyden agrees.
"In the South Island there have been extensive conversions, with sheep and cattle farmers selling out to dairy farmers," he said. "Dairy farmers have also been purchasing dry stock land for dairy run-offs."
Mr Boyden said South Island sheep and cattle farmers selling up had been coming to the North Island to buy, creating significant interest.
"Jerome Pitt, one of our real estate agents, had a number here on Tuesday looking," he said.
"However there haven't been a lot of sales throughout Hawke's Bay and there has been only one dairy farm sold in this area, from Norsewood to Woodville, so far this year.
"Another three dairy farms are listed and there has been some inquiry, but farmers are showing caution when it comes to spending."
Mr Boyden said there are a number of reasons why farms aren't selling.
"There is still a carry over from last year's drought," he said. "Although there hasn't been a drought this year and most dairy farm production is ahead of last year, that year's production was very poor.
"If we don't get rain dairy farmers will be drying off early, which will be a shame because this year Fonterra has a record payout."
Mr Boyden said last year's drought affected all farmers substantially, with many still recovering.
"We've a bit of a green drought at the moment, with farmers having to spend money on supplements," he said.
"And the reality of interest rate increases is affecting farmers too.
"I've been told by the banks that farmers are focused on debt reduction and are taking a very cautious approach to spending.
"Memories of the inflated prices for dairy farms in 2008 are still very much alive and of course, with the official cash rate rising, farmers have been told interest rates are going to rise even more."
REINZ figures show the median price per hectare for all farms sold in the three months to February 2014 was $22,644 compared to $21,951 recorded for three months ended February 2013 - up 3.2 per cent.
However, Mr Boyden said the national growth in farm sales hadn't filtered through to his region.
"Dannevirke is a well recognised dairying area, but it's the Waikato and Taranaki which are regarded as the best," he said.
"Dairy farming is the biggest employer in the Tararua and puts big money into our economy, but dairy farmers are typically cautious.
"And sheep and cattle returns have been average this year and not enough to cause a spike in the property market."