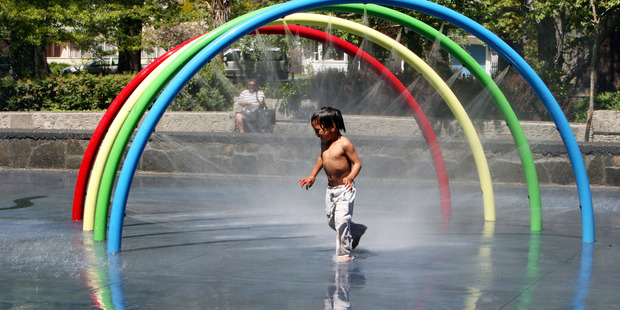 Hastings District Council says a sprinkler ban enforced for Hastings, Havelock North and Flaxmere yesterday was an infrastructure issue - not a water shortage.
The sprinkler ban came into effect in the wake of record high water use that was putting a strain on the pumping system for the Hastings, Havelock North and Flaxmere network.
The situation was critical, and without urgent water saving efforts it may be only a matter of days before the system may not be able to get water to all homes across the network.
The announcement yesterday sparked a barrage of comments and complaints on social media with people critical that they were having to conserve water while bottling plants in the region were able to take large amounts for free.
"Why can't the council connect the town water supply to the same aquifer as the water bottling plants? Don't they send 400 million litres to China a year.
That amount would go a long way to supplying Hastings and Havelock North with beautiful clean water. This is absolutely ridiculous," said one of many.
Tukituki Labour candidate Anna Lorck said she was not surprised there was a public backlash.
"I fully understand why these restrictions are coming, given the pressure Hastings' water infrastructure is under - but it hardly seems fair.
"We're being told to turn our taps off when at the same time water exporters can keep pumping out thousands of litres of free water day after day to sell offshore.
"No one can blame the people if there is a backlash over these water restrictions, but we must do it in the right way.
"While we need to heed to the regulator's call - there are ways we can force change because people have had enough."
Hastings mayor Lawrence Yule iterated that the current situation was not a water shortage.
"There is plenty of water in the aquifer.
"The issue is that we have used an extremely large amount of water in the last week, and the pumps cannot go fast enough to keep up with demand. They are at capacity."
He said that the closure of the Brookvale bores following the Havelock North gastro outbreak had contributed to the issue.
"We are working hard to get one more bore open by Christmas which will ease the situation, but in the meantime we need everyone to pull together on this. We really need to help each other."
He said that usually usage peaked just before Christmas, but had come three weeks early this year, before the re-instated Brookvale 3 bore was up and running with treated water.
The prospect of reactivating this bore, however, is under investigation as part of the Government inquiry into the water contamination event in August.
In a minute released yesterday, the inquiry panel said further investigation was needed around this bore to ensure water was safe to drink.
It will consider this at a public hearing at the Hastings District Court on December 12 and 13.
Meanwhile, Mr Yule said the current demand was the highest it had been in 5 years.
"'t will take about 3 weeks to get Brookvale 3 going, treated with UV. The only other option would be to build a new pipe from Hastings through Havelock North to the reservoir and that could take 6 months.
"We have had to act urgently for there to be drinking water, firefighting water and water for gardens and lawns available."
The 'stage 3' sprinkler ban status meant outdoor discretionary use was banned: No sprinklers, no car washing, no pool filling. Hand held hoses could be used on gardens between 6am and 8am in the morning and 7pm and 9pm in the evening.
The council turned off the sprinklers for roundabout and public gardens yesterday.
The only exceptions were the hanging baskets in the city centre, which would receive a small amount of water each night, and the batting blocks on cricket pitches which, for health and safety reasons, had to be watered.
The council was also increasing its focus on its contractors to rapidly fix leaks in the network and adding more resources to deal with them, said Mr Yule.
Facilities that had their own bores and therefore were able to continue water use included Splash Planet (for irrigation), some Hastings schools, the racecourse and the Hawke's Bay Regional Sports Park.
However, the council shut down the water supply to the splash pad play areas in Cornwall and Flaxmere parks.