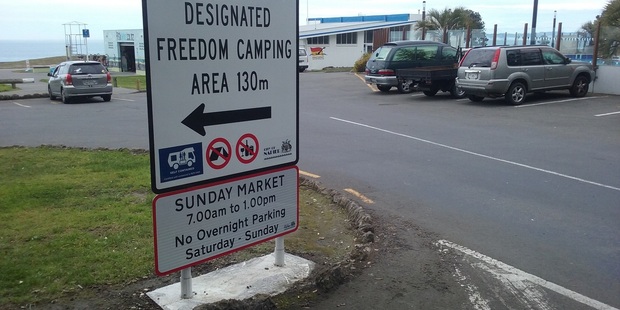 What should have been a fun birthday out with her daughter and her friends turned into a spot of traffic madness for Hastings woman Kelly Cruikshank who said the Napier City Council need to take a close look at the Marine Parade trouble spot.
Which, after her complaints were put to them, they appear set to do.
She chose Ocean Spa as the perfect place to celebrate her daughter's birthday but unfortunately the Sunday outing clashed with the Sunday Market nearby - which has shifted north from the usual car-parking area now undergoing a transformation as part of the Marine Parade redevelopment.
She said they were greeted by traffic jams and "a general mess" of cars due to the people flocking to the market as well as the spa facility.
Unable to get into the usual spa parking area, due to the market, she drove along to do a U-turn but as she waited at a Give Way sign to turn - "which took forever due to bad traffic management or lack of it" - she noticed cars trying to get into the market area but because of the stalls set-up were unable to.
"They then had to try and merge back in with busy traffic."
She said there were no notices or cones to indicate to drivers they could not turn in there.
"I finally got into what I thought was the Ocean Spa carpark only to find out that it was full or cars belonging to people who were going to the market - I had to back out because the end was blocked by fencing (at the Napier Conference Centre) construction site.
"After waiting a bit I was able to get a park but by this stage was very frustrated...and some bad language ensued," she said, adding that she figured the worst was over while she and the youngsters enjoyed their spa dips.
But when they left she was unable to get out easily as someone had parked their car in a non-park area which blocked her lane.
She was forced to use the other lane which she said was unsettling due to the traffic still trying to get into the area.
"It was just ridiculous that I was unable to have ease of access to a tourist attraction run-owned by the council," Ms Cruikshank said.
Napier City Council director of city strategy Richard Munneke said council had anticipated some teething issues with the new Sunday Market site and accordingly had entered into a short-term 'licence to occupy' with the organisers of the market "to provide an opportunity to monitor and address any issues".
Mr Munneke said parking and traffic flows had been further complicated by the redevelopment of the Napier Conference Centre but described it as "short term pain for long-term gain".
He said council staff were working with the market organisers in an attempt to address traffic safety concerns and said if they were unable to be resolved alternative sites for the market would be considered.
"Marine Parade will look great when everything is finished - we just ask people to be please be patient while it is undergoing its transformation."