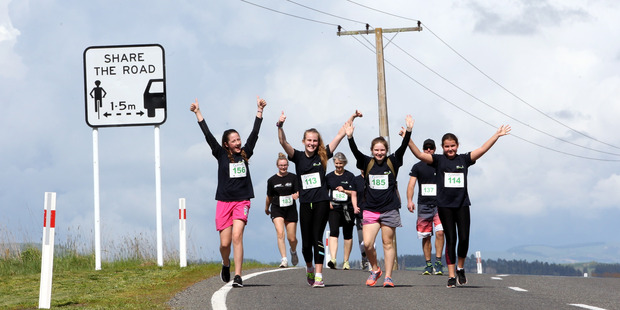 Hundreds of keen runners and walkers raced against the weather to complete the Hatuma Lime Half Marathon yesterday.
Sport Hawke's Bay's community development officer for Central Hawke's Bay Nicki Heremaia said they had 318 registrations with 53 of those entered on the day.
"It was a pretty decent turnout and we were not far off the record of 352 people but I think the weather would have played a part in that."
A range of ages completed the course with primary school children and runners or walkers who were in there 70's crossing the finish line.
Margaret Stuart was back again this year completing her 30th half marathon at the age of 74.
"She is a very experienced runner and was definitely one of the stand-outs on the day."
Ms Heremaia said there were lots of families who entered as part of a team and they had 28 different teams in total.
"They did the half marathon like a relay race, running or walking a different section each."
Ms Heremaia said Kasie Emery was another stand-out yesterday completing her second half marathon.
"Her guts and determination to finish was commendable as she was out on the course alone but kept on going."
She completed the course with a small group of loyal supporters and race officials cheering her on and welcoming her over the finish line.
Ms Heremaia said the weather managed to hold off during the half marathon but only just as when they started prize giving the dark clouds had moved in.
"We had to rush the prize giving as the thunder clouds and lightening creeped in but we managed to wrap the day up just before the heavens opened and the rain poured down, which was a good result."
The main sponsor Hatuma Dicalcic Phosphate (NZ) Ltd sponsored the event for the fourth time and sales and marketing director Aaron Topp said it was a fantastic day.
"It is a natural fit for us and something we are passionate about. We are nurturing and encouraging the community, it is our way of giving back."
He said the community had been supporting them for the last 80 years so it was there way of showing their support.
"We had a fantastic turnout today, everyone was happy and everyone seemed to come to the party, it was a really good community event."
The winner of the men's was Vernon Preston and winner of the women's was Karen Toulmin.
First in the college boys was Callum Shanks and first in the college girls was Holly Keir.
The winner of the teams section was the Flemington Fella's.