Snow saw trucks stranded on State Highway 5 and many residents were stuck in Taupo unable to travel home.
A Hall's refrigeration unit, Western Star, was heading northwest towards Taupo on Friday when it got caught in the snowfall, becoming stuck on the Summit in Te Haroto.
The truck had been stuck since 10.30pm on Friday and with the road having not yet reopened, would still be there.
A Hall's Refrigeration Transport spokesman said truck drivers did not get caught out like this often. In this case the snow had arrived "a lot harder and a lot quicker" than expected.
He said drivers would often take a different route but in this case they would have to wait out the weather.
He was unsure what the truck was carrying, with a raft of different items usually transported by the company.
Another motorist, Stacey Trotter, who was travelling home to Hawke's Bay from Rotorua, had to add 3 hours to her journey.
With "wild weather and road closures at every stop", she had to drive 517km instead of the usual 255km by going all the way to Whanganui and crossing back across to Hawke's Bay.
Several people were yesterday still stranded in Taupo after travelling there for the Hoka One Taupo Marathon on Saturday. Police urged people not to leave their homes as wild weather buffeted the region during the weekend.
Surface flooding quickly welled up on roadsides, spilling into lanes in many places.
With the sun not breaking the clouds once during Saturday and only marginally yesterday motorists kept their lights turned on.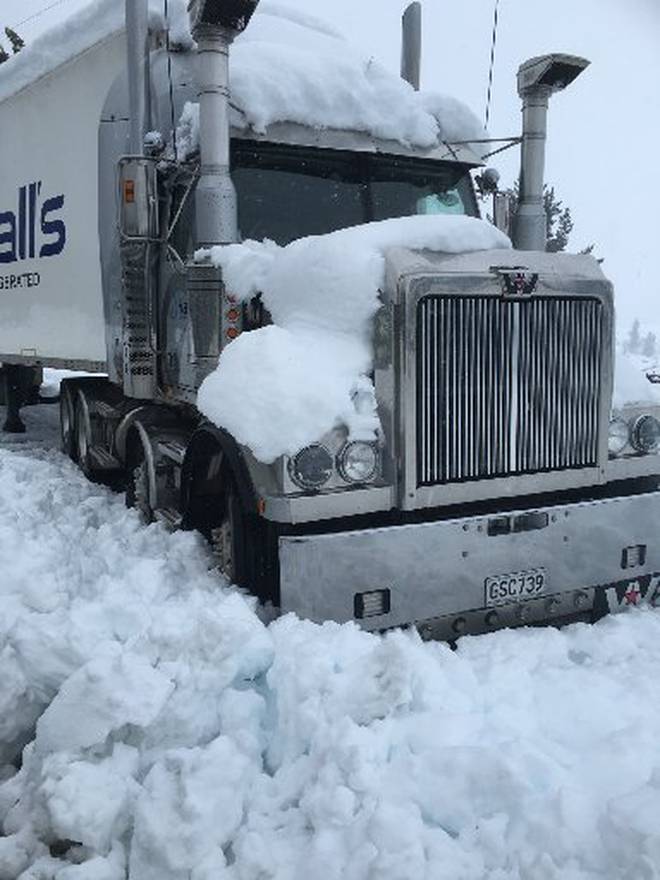 The NZ Transport Agency is reminding drivers to take care and plan travel carefully as wintry weather conditions mean many central and lower North Island roads continue to be heavily affected by snow, flooding and road closures.
State Highway 5, the Napier to Taupo road, will stay closed overnight. The detour route, via Gisborne or Palmerston North, will add four to five hours to the trip, so drivers are advised to plan ahead, or delay travel if possible.
"As conditions can change rapidly, we advise people to check the latest weather and road updates before they get on the road," highway manager Neil Walker said.