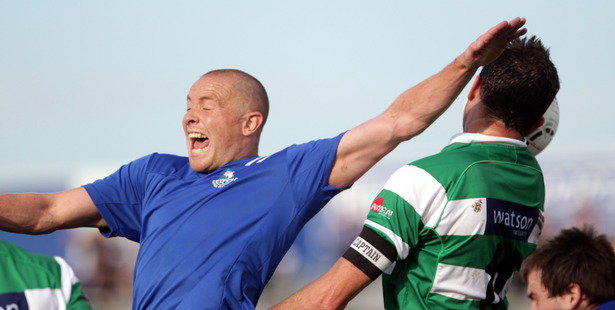 It's Groundhog Day but the clock alarm bell will stop ringing for one football team tomorrow.
Bluewater Napier City Rovers host Miramar Rangers at Park Island, Napier, in their Lotto Central League clash, with both parties needing to dig deep.
The Valerio Racuglia-coached Rangers were declared champions several weeks ago, while the Bill Roberston-coached Rovers are trying to stay in the top four of the league table after the disappointment of stumbling in the Chatham Cup semifinal a fortnight ago.
It boils down to a stronger motivational factor.
The Blues have the O'Brien Challenge Shield at stake, after defending it seven times this winter to remain unbeaten at home.
The Rangers? Well, it's hard to say, except that nothing will change for the Wellingtonians.
But the rot has set in for Danny Wilson and his boys, whose desire to eke out any sort of victory after the cup loss is questionable.
"The cup has had an influence, there's no doubt about it," Robertson says. "We now have to get back on track."
The Rovers are fifth on the table but also have a postponed game in hand against second-placed Western Suburbs the following weekend.
Robertson says his men had a discussion about finding their mid-season mojo, following the 70-4 drubbing against Wairarapa United last Saturday.
Needless to say, neither the Rangers nor the Suburbs will be a given.
"They [Miramar] are league champions for a reason and are very consistent," he says, adding it is a good chance for players who did not get much game time to put their hand up.
Robertson hopes to be fit to play, after withdrawing last weekend due to injury.
Chris Greatholder is available and Angus Kilkolly returns from a match ban.
Andrija Ilic is out and English import Ryan Tinsley is injured.
MATCH DETAILS
WHO: Bluewater Napier City Rovers v Miramar Rangers.
WHERE: Park Island, Napier.
WHEN: Tomorrow, 2pm kick off.
REFEREE: Peter Linney.
AR1/AR2: Gareth Sheehan/Gordon Harris.
ROVERS: Jonty Underhill (GK), 2 Josh Anstis, 3 Dan Ball, 4 Bayley Chadderton, 5 Bill Robertson, 6 Miles John, 7 Matt Hastings, 8 Stu Wilson, 12 Oli Chapman, 14 Josh Stevenson, 16 Danny Wilson (c), 17 Fergus Neil, 18 Angus Kilkoly, 19 Phil Dol, 20 Chris Greatholder, Kyle Baxter (RGK).
Coach: Bill Robertson.
Manager: Malcolm Wilson.
RANGERS: Phil Imray (GK), 2 Tim Schaeffers, 3 Andrew Blake, 4 Adam Wallis, 5 Jamie Farrington, 6 Daniel Bowkett, 7 Henry Fa'arodo, 8 Cole Peverley, 9 Peter Halstead, 10 Wiremu Patrick, 11 Joel Stevens, 12 Fraser Colson, 13 Patrick Fleming, 15 Ben Thomas, 16 Sam Becker, 17 Dom Rowe, 18 Tamupiwa Dimairo, 19 Cory Chettleburgh, 20 Michael Durkin, 21 Justin Gulley, Charlie Morris (RGK).
Coach: Valerio Raccuglia.
GOLDEN BOOT
19: Hamish Watson (Wairarapa).
14: Paul Whitmarsh (Petone).
12: Henry Fa'Arodo (Miramar), Samuel Mason-Smith (Miramar), Jerram Tuck (PN Marist).
10: Noah Billingsley (W Suburbs).
9: Sam Blackburn (Olympic), Ryan Tinsley (Rovers).
8: Andrew Abba (Olympic), Elliot Collier (Suburbs).
STANDINGS
P W D L F A GD Pts
Rangers 17 14 1 2 53 24 29 43
W Suburbs 17 11 2 4 48 21 27 35
Wairarapa 18 10 3 5 50 38 12 33
Olympic 18 10 2 6 45 35 10 32
Rovers 16 9 2 5 43 33 10 29
Petone 18 7 4 7 45 39 6 25
PN Marist 18 8 1 9 39 34 5 25
L Hutt 18 3 4 11 25 35 -10 13
Tawa 18 3 1 14 18 62 -44 10
U Hutt 18 2 2 14 31 76 -45 8