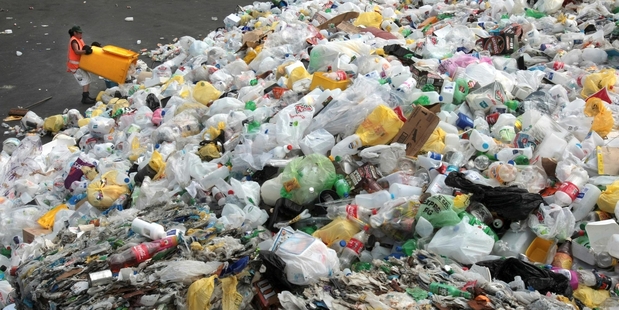 Napier City Council is set to ban shopping bags from its kerb-side recycling scheme as it continues to struggle to find an economic way to reuse the city's waste plastic.
The council stopped accepting any plastic for recycling at Taradale's Redclyffe transfer station in May because the high level of waste being dumped in the collection bins meant it was uneconomic to sort and process the recyclable material.
Nowcontamination of the plastic shopping bags residents are putting out for recycling - including with paper supermarket till receipts - means the council's recycling contractor is having difficultyselling them on.
As a result, councillors will vote tomorrow on a proposal from staff, endorsed by Napier Mayor Bill Dalton, to exclude shopping bags from its fortnightly street recycling collection.
The change of policy would bring Napier into line with Hastings District Council which does not accept plastic bags as part of its kerb-side recycling service.
In a report for tomorrow's council meeting, environmental compliance officer Tracey Kirwan says while the council's kerb-side collection contractor, Green Sky Waste Solutions, has previously sold bales of recycled supermarket bags to a recycler in Vietnam, contamination issues were making sales increasingly difficult.
"[A] number of bales have now been rejected by Vietnam. If there is only [a] small amount of contamination present, for example receipts or food residue, bales are rejected and must be landfilled," the report said.
Plastic bags collected through the council's recycling scheme were now ending up in landfills "more often than not" and banning their collection might send an environmental message, the report said.
"If all plastic bags were to be stopped at kerbside it would send a strong educational message regarding the difficulties faced with recycling plastic bags and the need to use less plastic bags and making it less confusing to those who mistakenly put out non-recyclable plastic bags on kerbside."
Meanwhile, Napier councillors are also being asked to keep the Redclyffe plastic ban in place while other options are thrashed out as part of a wider waste strategy.
Ms Kirwan's report says banning plastic recycling at Redclyffe had increased contamination of the paper, cardboard, tins and glass still collected at the site because residents had begun dumping plastic into bins for other material.
A new recycling facility at the transfer station would cost $300,000 to build, but council staff were recommending to put its commencement on hold while a joint council waste futures project steering committee, with representatives from Napier and Hastings, considered long-term solutions for rubbish disposal in the region.
In the meantime council staff recommended spending $8000 to employ an "educator" at the facility over summer to help enforce the recycling rules and minimise contamination.