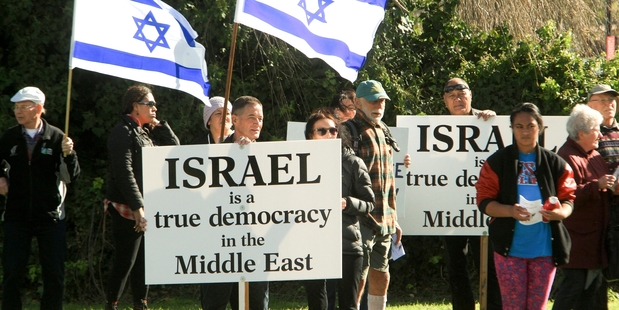 Green Party Napier candidate Paul Bailey has called for the Government to expel the Israeli ambassador from the country, a request the ambassador calls "misguided".
Israeli Ambassador Yosef Livne arrived in the region yesterday morning for a two-day visit.
His presentation to the New Zealand Institute of International Affairs Hawke's Bay Branch at the Havelock North Club in the afternoon sparked pro and anti-Israel demonstrations.
Senior Sergeant Greg Brown said a team of about eight police oversaw the demonstrations, which were placed at opposite ends of Campbell St.
A pro-Israel demonstration gathered on the corner of Joll Rd and Campbell St in advance of the ambassador's arrival.
Organiser Nigel Goodley of the Flaxmere Christian Fellowship, said the gathering of about 40 people, consisting mostly of Christians from Napier and Hastings, intended to "let the ambassador know he has a warm welcome in Hawke's Bay".
As the ambassador's car turned the corner toward the Havelock North Club, the group cheered and sang in Hebrew.
Israeli flags and placards describing Israel as "a true democracy in the Middle East" were present.
Meanwhile, at the other end of Campbell St on the corner of Duart Rd, was another demonstration, also made up of about 40 people.
It was organised by Napier City councillor Maxine Boag to protest against Israel's attacks on Gaza.
Placards called for New Zealand to Boycott Israel and for Mr Livne to "get out of New Zealand".
Mr Bailey stood with a Green Party flag and spoke through a megaphone. He urged the Government to sever diplomatic ties with Israel and expel the ambassador.
"We believe the Israeli ambassador's expulsion would send a message to the international community that we find Israel's behaviour in Gaza unacceptable. "Israel is so much more powerful than the Palestinians that they've got a moral obligation to take a step back first," he said.
Labour Party Napier candidate Stuart Nash and National Party Napier candidate Wayne Walford told Hawke's Bay Today the ambassador should stay.
Mr Livne told the newspaper Mr Bailey's comments reflected a "less-than-friendly attitude".
"I'm sorry to hear it, I think it's misguided. If people want to have a dialogue, however critical, the only way to have dialogue is through a representative of a country - namely myself. I sure hope the Government doesn't heed it."
In the Havelock North Club, he spoke to an audience of about 220 people.
Mr Livne had met Hastings Mayor Lawrence Yule and lunched at Te Mata Estate winery earlier.
The ambassador would not be drawn on whether there was an end in sight to the Gaza violence: "Obviously, as long as they [Hamas] keep shelling us with rockets, there will be a reaction."
He also spoke to about 120 New Zealand Institute of International Affairs Hawke's Bay Branch members at Kennedy Park Resort, Napier, last night, where there were no demonstrations.
Mr Livne is scheduled to meet local iwi and Napier Mayor Bill Dalton today.