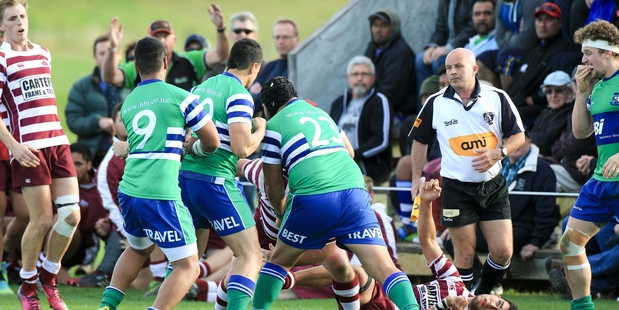 Taradale centre Nick Biss' father Matt texted him three words before Saturday's Hawke's Bay premier club rugby Maddison Trophy semifinal.
"You better win," recalled Biss after Carters Frame and Truss Taradale's 18-14 win against Hawke's Bay Insurances Limited Napier Old Boys Marist in an action-packed thriller in front of 970 fans at Taradale.
Biss' father works in the mines at Barrow Island off Perth and gets home once a month to watch Biss and his brother, Hawke's Bay United footballer Tom Biss, play their respective codes.
"Dad must have known we would make the final ... he's due home again on Friday, the day before the final," Biss said with a grin.
Biss started at centre in the absence of the injured Leafi Tupuola and scored what proved to be the match-winning try with 10 minutes remaining.
He combined well with second five-eighth Uta Tupuola who was playing the position for the first time.
"That's the toughest game I've ever played. It was good to score that crucial try," Biss said.
He admitted there was a bit of panic in the Mighty Maroons camp after the visitors took a 14-3 lead 10 minutes into the second half despite playing with 14 men after second five-eighth Asa Ene had been red carded for knocking out Taradale lock Angelo Mufana midway through the first half with a punch.
"But Red got us on the right track again," Biss said referring to captain and blindside flanker Andrew Gardner.
Biss is confident Taradale will win the final, a match which will double as a trial for a starting berth in the Hawke's Bay under-19 side for him with fellow midfield contenders Kalin and Jesse Paewai likely to get game time for Havelock North. Openside flanker Jaaron Fritz in his 50th and blazer game for the hosts scored their other try off a clever burst from first five-eighth Manihera Eden.
Napier Old Boys Marist deserve praise for their competitiveness in the wake of some significant setbacks in the build-up and then Ene's ordering off. Powerful No8 Joseph Penitito failed a concussion test on Saturday morning, midfield back Leo Ene collected a hamstring injury on Thursday night which he couldn't shake, French halfback Boris Bouhraoua was a late withdrawal after straining his calf in the warm-up and substitute forward Matt Robertson collected a knee injury playing in the curtain-raiser.
"Our boys showed a lot of character to produce what they did," NOBM manager Mike Smith said.
Dynamic openside flanker Pouvi Fatialofa, captain and prop Jarvy Aoake and lock Tom Bywater were prominent in the visiting forward pack and halfback Johnny Lauano and fullback Liam Edwards were full of enterprise in the NOBM backline.
Progressive Meats Ltd Havelock North overcame the late withdrawal of All Black Sevens star and Commonwealth Games silver medallist Gillies Kaka and beat Tanalised Napier Pirate Rugby and Sports 26-13 in the other semifinal played at Anderson Park. Havelock manager Richard Kinnear said Kaka was keen to play, having trained with the side on Thursday night, after returning from Glasgow but on Saturday morning bowed to the effects of jetlag.
Kinnear was proud of the way his troops took their opportunities and ran in four tries as they registered their 13th consecutive win. He said the hosts' scrum was a key weapon and attributed this to the work Simon Halford has done since joining the coaching staff nine weeks ago.
"Our tight five set the platform and our loosies and backs benefited," Kinnear said.
Centurions, hooker Emmanuel Maui and halfback Isaac Paewai, joined workaholic lock Richard Tichborne on Kinnear's MVP list.
Pirate assistant coach Terrence Taylor said his team competed well but Havelock's execution was first class and they capitalised on their opportunities. He is predicting the villagers to win the final.
Gerome Naera, who had stints at hooker and openside flanker, and locks Matt Brown and Manihera White were the pick of the Pirate forwards.
Union awaits report on KO punch
Hawke's Bay Rugby Union's club development officer Gary Macdonald has yet to decide if there will be a judicial hearing following Saturday's knockout punch in the Maddison Trophy semifinal at Taradale.
"Until I get the referee's report I can't make that decision and while I was at the game I didn't see the punch," Macdonald (pictured) said.
He was referring to the punch from Napier Old Boys Marist second five-eighth Asa Ene which knocked out Taradale lock Angelo Mufana midway through the first half of Taradale's 18-14 win. Ene, who was ordered off after the punch, told his coaching staff the punch was his reaction to a knee to the jaw collected by his midfield partner David Benson.
Macdonald said the referee's report would also determine whether any judicial action will be taken against Mufana. Initially the NOBM team's coaching staff thought Benson may have to be taken to hospital but manager Mike Smith said yesterday the jaw wasn't broken.
Taradale co-coach Blair Cross said he was disappointed NOBM assistant coach and Benson's father Pat Benson made such a big deal of the incident at the post-game media conference when they took a "leave it on the field approach" to a similar incident when the two teams last played each other a fortnight ago.
On that occasion Taradale centre Leafi Tupuola collected a broken jaw from a NOBM player who was penalised at the time. Tupuola spent four days in hospital after a plate insertion operation and was ruled out of the remainder of the season.
"We had video footage and could have cited the player concerned but decided to leave the incident on the field. That 3-all draw was a good, tough game ... just like today's," Cross said.
He added Mufana was keen to play in Saturday's final against Havelock North at McLean Park but he won't if he fails to receive a clearance.