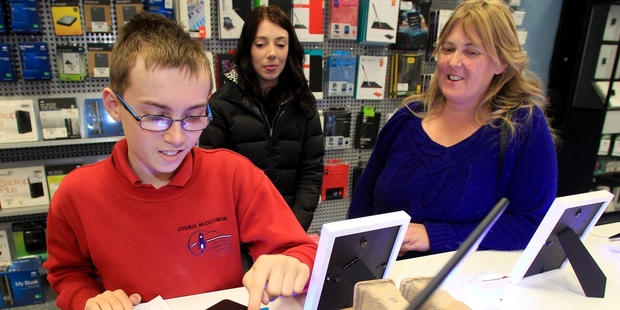 A 12-year-old autistic boy who had his electronics and birthday presents stolen in a burglary has been gifted a new laptop by a Hawke's Bay Today reader.
Joshua McCutcheon had many belongings stolen, including his laptop and iPad, when burglars broke into his Maraenui home last week.
The burglary was a real blow for Joshua, who loves technology and needed his laptop to write, as his handwriting is illegible.
Joshua's solo mother, Kerry McCutcheon, said the burglary had added to the family's spate of bad luck, having also dealt with a prior burglary and a devastating house fire on the same street, in the past three years.
When 1st Cloud director Steve Aken, from Auckland, read Hawke's Bay Today's online story about the McCutcheon family yesterday, he decided to buy Joshua a new laptop. "I thought, 'let's buy this boy a new laptop. It'll put a smile on his face'."
Mr Aken, who runs a data storage company, said as a father of three boys, he knew how important technology was for young people.
"As soon as one of these laptops breaks down, they lose everything."
He also gave Joshua five gigabytes of free back-up storage, so he wouldn't lose his files if something happened to the new laptop.
Joshua and Ms McCutcheon picked up the new Acer laptop yesterday.
Ms McCutcheon said the generosity had given Joshua and the family a massive boost. "It's just blowing me away ... He [Mr Aken] doesn't even know us.
"It's nice there are some people out there that care.
"It makes me feel wonderful. It just shows there's still some humanity left and some compassion."
Joshua also received a bag of presents which had been dropped anonymously to Hawke's Bay Today's office.
The McCutcheon family has set up a Givealittle page to raise money for their $1000 insurance excess after the burglary cost them $6000 worth of belongings.
The page had raised $420 last night.
To donate visit the site: www.givealittle.co.nz/cause/helpmousehouse.