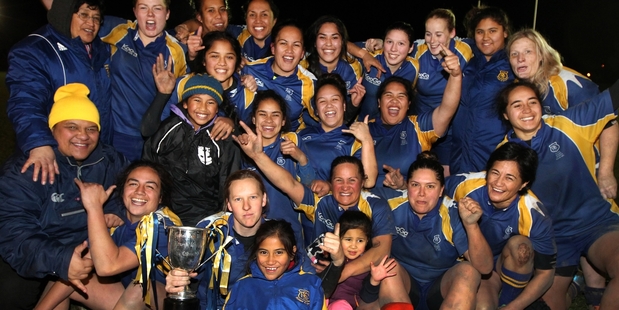 It was a case of once bitten, twice shy for Clive after they retained the symbol of women's rugby supremacy in Hawke's Bay last night.
"I'm not sure if we didn't have enough mongrel or respect for them in the first round," player/coach Te Maari MacGregor said last night after her troops beat newcomers Havelock North 34-17 in the final at Farndon Park, Clive.
The Tom Blake-coached villagers, in their maiden competitive season, left Clive smarting after claiming the first-round bragging rights.
The hosts led 22-12 at halftime last night but MacGregor lauded Havelock for capitalising on their "silly mistakes and penalties" in a game the Amy Williams-skippered Clive clinched on a 5-3 try tally.
"They got through on us a few times," MacGregor said as the predominantly teenage visitors snaffled turnover ball at opportune times to get a roll on against their experienced opponents.
At the risk of sounding arrogant, the second-season player/coach pointed out Clive had been in the competition for almost two decades so other clubs often saw them as setting the benchmark to ascend to.
"Everyone counts on us because they see themselves as underdogs so losing is not an option for us," she said.
"We had a game plan and we kept to it so I'm really proud of my girls."
MacGregor thanked coach Andy Green for helping out with their scrummaging and Deidre Hakopa and Lisa Ropiha for making her job easier.
Blake was proud of what Havelock had achieved this season, considering he had nine schoolgirls and five who have left school in the Laure Blake-captained side.
"Laure's our only experienced player and was lucky to play, coming off a sickbed."
He said No8 Whitley Marekura was tireless but the girls' lack of experience was exposed.
Result: Clive 34 (Talon Robinson 3, Deidre Hakopa, Amy Williams tries; Williams 3 conversions, penalty) Havelock North 17 (Tamia Edwards, Tina Paulo, Whitley Marekura tries; Marekura conversion).
Halftime: 22-12.