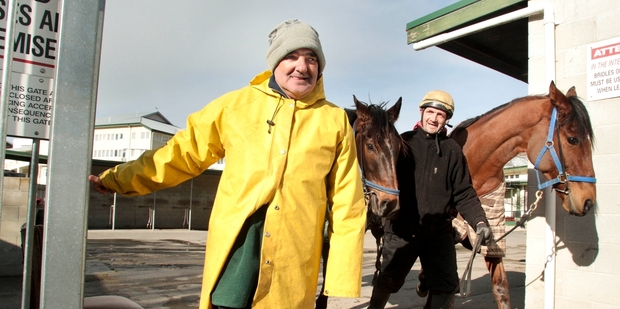 He's the bloke who intermittently darts out into the middle of Southland Rd, Hastings, to halt traffic to ensure safety and right of way to racehorses.
Clad in a fluorescent green jacket and woolly beanie, Dean Lionel Atkins no doubt annoys some motorists with his short but imposing frame, especially those who have left their run too late for work in the morning.
"He's a vital part of our operation and without him we're lost," Hawke's Bay racecourse manager Richard Fenwick says of the equine safety attendant who has been on its payroll for six years.
"Since Dean's been doing it we've had no accidents at the crossing," Fenwick explains, rapping his knuckles on the wooden bench near the parade ring.
Says HB Racing general manager Jason Fleming in a jocular vein: "When he behaves himself he's phenomenal. He gets a yearly itch but he's certainly a valued staff member.
"He's the most punctual because he's here before everyone else."
Atkins, who sometimes jumps out of bed well before the crack of dawn, fulfils his duties with a passion and it's something trainers and handlers truly appreciate.
"I'm just part of a big team. My father used to tell me, 'No matter what you doing, as long as you're part of a big team'," says Atkins of his father, the late Lionel Atkins.
Atkins turns 51 tomorrow and is treating fellow track staff, he calls "The Band of Brothers", morning tea today.
It may appear to the outsider that he simply goes through the motion during race meetings and track-work days.
It's on the contrary, actually, because his knowledge of traffic is pretty specific.
"I know when school buses come - quarter past eight, bang on."
His raincoat is a godsend, coming in especially handy on days like Tuesday when the icy blast cut through Hawke's Bay.
The coldest morning he can remember was -2C but it's the wet mornings that test his willpower most.
He feels most drivers "are pretty good but there's always the odd one who'll shoot through".
A former rural mail-delivery man, Atkins put his skill of memorising gate names to other use when Horse of the Year organisers asked him to be a volunteer more than a decade ago.
"What's in it for me?" he had asked. Food and meeting people were initial incentives but he met impressionable people such as equestrian stalwarts Sue Thompson and Maurice Beatson.
One day he noticed children leading their mounts across the road and the rest is history.
"I'd give anything to ride," he says but realises that'll never happen.
That's because when he was about 2 years old, he had surgery on the top of his head to remove pressure from his brain.
"I was told I couldn't ride and that was that," says the man whose relatives include his great uncle, Percy Atkins, a prominent Hastings jockey, the riding and training Autridge family of Matamata and Donna Logan, a trainer from Ruakaka.
Dean Atkins was born in Auckland before moving down to Taupo briefly with his family as a youngster then to the Bay where he attended Bledisloe School in Napier and then Heretaunga Intermediate and Karamu High School in Hastings.
"I was born at Greenlane Hospital, near horses," he says, a stone's throw from the Alexandra Park trotting track.
The Brain Injury Trust Hawke's Bay recommended Atkins as a volunteer to HB Racing, where he had become an avid collector of race-day booklets from 1977.
A leftie, he gravitated towards racing-savvy people, including Hastings trainer Diane Sergeant, also a leftie, and Bay couple Pam and John Stenning.
"I thought, 'If I'm going to learn anything I'll do it with proper people'," Atkins explains, adding he also went to the Riding for the Disabled (RDA) school along Murdoch Rd where he learned how to put a bridle and other related things on horses.
A gate steward at the Hoy Show since its inception a decade ago, he ends up announcing more than 100 riders and horses in each class for the duration of the six-day event.
"At the races I have a board. There are 40-odd people so I just tick off their names," says the man who also helps out at Waipukurau Racecourse and pony clubs.
He has seen many horses come and go but his all-time favourite is No Hero, a retired two-time Bay Steeplechase winner.
Jo Harrison, of the Bay, rides No Hero, 17, in equestrian.
The horse, which was grey but is almost white now, also is used as a marshalling mount during race meetings.
The other is stallion Jimmy Choux, a champion horse John Bary trained.
"Jimmy used to win a lot and give everybody a lift as a Hastings horse," says Atkins of the Richard and Liz Wood-bred/owned galloper.