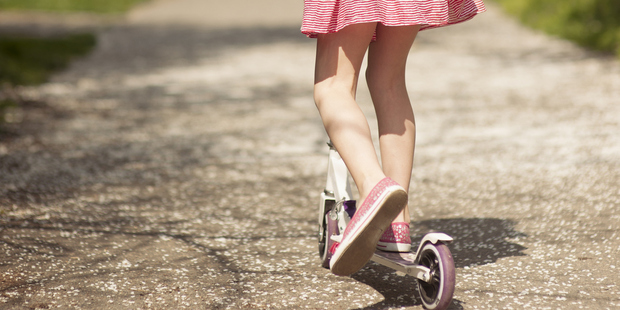 It's an increasingly popular way for kids to get around but putting safety first is essential, writes Lydia Anderson.
More Hawke's Bay children are receiving scooter injuries as they become increasingly popular, new figures show.
Hawke's Bay scooter injuries have increased substantially from 304, at a taxpayer cost of $110,093 in 2011, to 450 at $128,919 last year, according to ACC injury claim figures.
Injuries increased most in 5 to 14-year-olds, from 242 to 342, although fluctuated during that period.
The situation was highlighted when a 13-year-old schoolboy rode into the path of a car in Tennyson St, Napier, early on the night of June 18 and was seriously hurt. The boy was, however, able to return to school before the end of the term.
Fractures to the arms, and head and facial injuries - particularly dental injuries - were most common, with some occurring when handgrips came off handlebars and when scooters folded unexpectedly, ACC said.
Te Mata School principal Michael Bain said scooter popularity had increased so much the school had bought a scooter bay to store students' scooters.
Up to 90 students out of about 580 rode a scooter to school each day and the vast majority wore helmets, he said.
"You get the odd prangs and bits and pieces where kids fall off.
"We've encouraged our kids to wear helmets after a spate of really nasty crashes and bangs, so we regularly put into newsletters that we want kids to wear helmets."
Nationwide, ACC scooter injury claims increased from 4306 at $1,375,395 in 2011 to 7733 at $2,178,884 last year.
Statistics released by Safekids New Zealand last year showed 158 children were hospitalised with scooter-related injuries between 2007-11.
Safekids director Ann Weaver said that, although scooters provided children with valuable exercise, it was important to use safety equipment such as helmets, which were not currently mandatory for scooter users.
"It only takes one fall and landing the wrong way could really have a long-term impact on their life, and all for the sake of wearing a helmet.
"[Although] it isn't law, we should still be encouraging children because we know it's a good intervention to reduce serious head injury."
Schools needed to have scooter safety policies if their students were using scooters to travel to school, including instructions on good travel routes and possible traffic hazards, she said.
Through its Safe2Skoot programme, run in conjunction with Jetstar, Safekids delivers safety information to schools throughout the country.
While scooter safety was ultimately the responsibility of parents, schools needed to support children to travel to school safely, she said.
The Warehouse spokeswoman Joanne Fullam said the popularity of children's scooters was definitely on the increase and the retail giant had seen steady sales growth, particularly over the past six months.
Safety product sales had increased in line with scooter sales, she said.
"Safety of our customers is a top priority at The Warehouse, so we offer a large range of skate style helmets and safety pads."
ACC spokeswoman Stephanie Melville said, given the popularity of manual scooters among Kiwi children, ACC wanted to remind parents of young scooter riders to always ask "got your helmet on?"
"If kids use the right protective gear, wear brightly coloured clothing and ride in safe environments, this will reduce the risk of accidents and injuries."