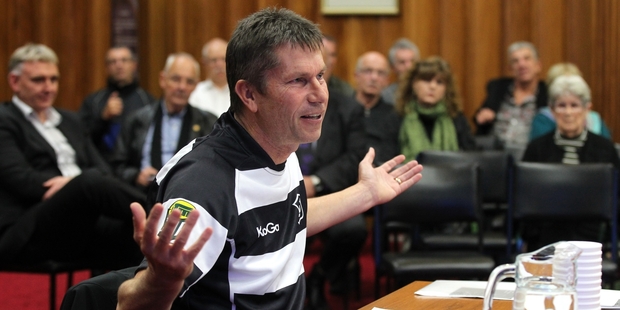 After serving three terms as Napier's National Party MP, Chris Tremain will stand down at this year's election. Reporter Doug Laing talks to Mr Tremain about the highs and lows of his time in Parliament.
Napier MP Chris Tremain has revealed he was subjected to "horrible" rumours about why he decided to retire from Parliament.
It started about a fortnight after he announced on September 30 last year that he would not seek re-election after nine years in Parliament as Napier's first National Party MP in more than half a century.
Nine months later and delivering his valedictory speech in Parliament today, Mr Tremain conceded in an interview with Hawke's Bay Today his announcement came as a surprise to a lot of people and probably sparked the gossip.
"There were some horrible rumours," he said. "I had a guy come into my office and ask me about them.
It was quite bizarre what went around. They were total rubbish."
"People want to put you in a box," he said. "Perhaps they can't understand that when you leave a position (in public office) you can do so without having dubious reasons."
What is true, he said, reiterating his original explanation, he wanted to be able to spend more time with wife Angela, sons Sam, 18, Will, 16, and daughter Lilly, 13. Now aged 48, he wants to return to commercial business and enjoy more of the Bay where he's spent most of his life, all before it's too late.
He was, after-all, a political new-arrival, who didn't join the National Party until a year or so before he was first elected in 2005, beating Labour incumbent Russell Fairbrother with a 3591-vote majority, which leapt to 9081 in the next election three years later.
It had been an inspired choice by National, shoulder-tapping the son of 1960s Hawke's Bay Ranfurly Shield team captain and All Blacks rugby star Kel Tremain, who had himself been approached at least a couple of times to consider standing.
The approach, having been made by National Party Napier electorate chairman Tom Johnson, another 1960s Hawke's Bay captain, drew some inevitable public contention that National was banking on the father's reputation rather than the credentials of the son.
Among those who quickly discounted it, was his grandmother, Elsie, who responded to one letter-writer in Hawke's Bay Today that she resented such suggestions, and said: "Chris is his own man."
Mr Johnson said yesterday: "Chris was as near perfect a selection as you could find for the Napier electorate when he was first approached. It was not just the high profile of the family name established by an illustrious father and a successful business run by the sons, but more importantly it was the personal qualities that Chris possessed.
"Chris is a highly intelligent individual, with strong family values and a work ethic that ensured he served his constituents efficiently and very effectively," he said. "He has been an outstanding local member whom I am sure his family are very proud of."
One indication that he was his own man was his own move to learn the Maori language, well before he ever pondered a political life, and made several references to it in his maiden speech in Parliament on May 22, 2005, to which he will also refer today.
He said then he did not have Maori blood " ... but the spirit, the wairua, of New Zealand is in me.
"To me this is the very essence of being tangata whenua."
He began that speech with a proverb "haia te pae tawhiti kia tata, Whaia te Pae tata, Whakamaua kia u, kia tina," which he said "commands us to reach for the horizon, for the stars, to bring them close and to hold them tight".
If the 2008 vote - his whopping 20,898 share - is any measure, then the electorate was reflecting that Elsie Tremain was right.
On his OE at the time of his father's death in 1992, working in England as a production accountant with TV programme Whose line is it anyway?, Chris Tremain returned home to join his brothers in the family business and established his own place in the community, and at the time he became candidate late in 2004 he was chairman of Sport Hawke's Bay.
Mr Tremain formed a popular Backing the Bay alliance with party colleague and Hastings-based Tukituki MP Craig Foss, but left some constituents wondering if it was going too far, when during his second term he spoke in support of local-body amalgamation, saying at one stage: "Focusing on organisations that already have merged governance, such as the Magpies, EIT, and Unison is a great way to demonstrate what can be achieved."
The 2011 result, with the majority back to 3701, over new Labour candidate and one-term List MP Stuart Nash, may have pointed to some turning of the tide, and there are hints that Mr Tremain did not want to tempt fate, even if the nine months now elapsed since his announcement, seem to make National Party re-election a formality on September 20.
Politicians learn constituents are a bit touchy about parties doing any more than three terms - none has done so since 1972 when Norm Kirk led Labour to a 55 seats to 32 over a National Party trailing the new leadership of Jack Marshall after Keith Holyoake stood-down after 12 years as Prime Minister.
He acknowledges National weren't in good shape, at least in the polls, when he first put his hand up, but says a great team has been developed.
They came from "vastly different walks of life", he said, and thinks of the nurse (Jo Goodhew), the builder (Bob Clarkson), the diplomat (John Hayes), the shearer (Colin King), the teacher (former Napier school principal the late Alan Peachey), and the shoe salesman (Mark Blumsky).
He had experienced three years as an Opposition MP when he entered Parliament, and the possibility of doing it again, even if probably not the next three years, doesn't appeal.
It's a "lonely" place, especially after serving as a Government MP, he said.
"It would have been easy to make a decision and stay another three years, and collect the pay every fortnight," he said. "It was better to leave while the team is in good shape."
He says new National candidate Wayne Walford "can" win the Napier seat against now experienced Labour campaigner Mr Nash, and wonders about the current goings-on in the Labour Party.
"We (National) had our arguments," sure," he said. "But it was in the Caucus room, not in public."
There'll be 34 family and close friends at Parliament today to honour is achievements, which included becoming Senior Whip (somewhere between "Sergeant Major in the army and pastor in the parish", he reckons), Minister of Internal Affairs, and Minister of Local Government.
Pressured yesterday for a "proudest moment" he said becoming a Cabinet Minister for the first time, and his vote in support of the bill allowing gay marriage were highlights.
He applauded the work of electorate staff and volunteers, but said: "I thank people for the opportunity to be their MP. I've really loved being an elected MP, dealing with people from all walks of life, and the different colours of politics, and it didn't matter whether you voted for me or not."
Mr Tremain is one of 17 MPs delivering their valedictories over the next two days, including party colleague and Wairarapa MP John Hayes.
Others include Maori Party co-leader Dr Pita Sharples, the MP for Auckland-based Maori seat Tamaki Makaurau but from Takapau and cut some of his political teeth as chairman of former iwi authority Te Runanganui o Ngati Kahungunu, who will also have a contingent of supporters from Hawke's Bay.