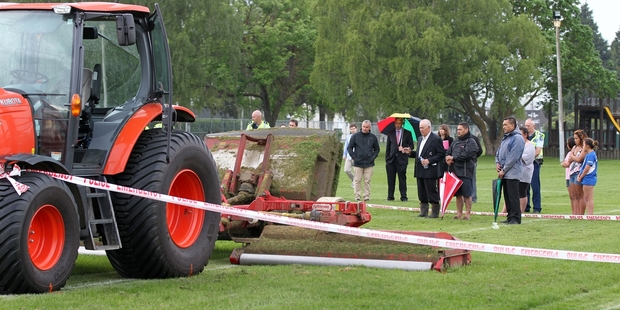 A Hastings District Council tractor driver is asking for forgiveness, after he was sentenced to six months' home detention for causing the death of a 4-year-old boy in a mowing incident last year.
The man, aged 73, who has interim name suppression until Monday, entered a guilty plea in the Napier District Court in May to driving a vehicle dangerously, causing the death of Uetaha Dahtanian Ransfield-Wanoa. It also emerged yesterday that the driver was haunted by the loss of his son in a similar tragedy.
Yesterday he was sentenced to six months home detention, 100 hours community work, disqualified from driving for three years and ordered to pay $5000 reparation.
The tragedy occurred at Kirkpatrick Park in Hastings on October 8, 2013, when Uetaha was run over by the tractor-mower.
After the tractor had been operating for about 11 minutes and had mown six lengths of the park, three children, aged 10, 8 and 4 had begun chasing the machine.
Court documents said the eldest child was on a bike, while Uetaha and the 8-year-old were running.
Judge Jonathan Down said to the driver during sentencing yesterday: "You stopped, turned around to them, called out to them to stop, tooted your horn, waved and tried to shout them off, but despite your best efforts they continued to chase the mower."
A witness to the incident, who was in a building across the road, later told police about being concerned about the children running near the tractor. As the driver had continued to cut the field, Uetaha had grown tired and sat down on a patch of freshly mown grass, but as the driver turned to complete another leg the 4-year-old had run in a diagonal direction towards the tractor.
Witnesses had told police Uetaha was about 35m-40m away when he began running and had "side-stepped" towards the tractor before trying to step back, but he was sucked under the right-hand side of the mower.
Uetaha's mother, Aliza Wanoa, read an emotional victim impact statement to the court and described "her main man" and eldest child, known as "Bubbies".
"He was my son and to my brothers and sisters he was their son, too, because they do not have sons of their own."
She said Uetaha's sister now has a "big hole in her heart" and their house is quiet without him, while she now sleeps with Bubbies' ashes.
Her son had been looking forward to making friends when he started school at Kura Kaupapa o Heretaunga School in Hastings, and had been counting down the days until his fifth birthday.
"I just feel so lost ... I didn't get to see him at school - Christmas was a very sad day for us."
She said she was angry that there had been no justice for the boy who loved spiders and dinosaurs, and wept uncontrollably when the driver's sentence was read.
Several family members sitting in the public gallery were wearing green T-shirts, that they had also worn at Uetaha's funeral, with the boy's face printed on them and a message reading "Rest Easy Bubbies".
The driver lodged an application for permanent name and image suppression. However, Judge Down gave him name suppression until Monday and granted his application to have his image permanently suppressed.
He said the publication of the driver's image would cause him extreme hardship and endanger his safety.
He added, two doctors had diagnosed the elderly man with a major depression and post traumatic stress disorder following the incident, and the medical professionals had pleaded with the court for permanent name and image suppression.
Judge Down said the "horrific" and incredibly sad incident had brought much of the driver's three-year-old son's death back, who died in similar circumstances.
The elderly man had been with the council for 13 years and was a senior driver, but had not mowed council land since the incident.
He continued to be employed by the council throughout the court case, while performing other duties, but retired on June 6.
A letter of regret was read to the court by his lawyer, Andru Isac, and said: "Words cannot say how sorry I am for this terrible accident that we will have to live with for the rest of our lives."
Not a day went by that he didn't think about the 4-year-old and he was sorry to have "robbed" the family's joy of seeing Uetaha go to school. "I would do anything to change it." He said his heart was "full of sadness" and he could understand the pain the family was going through after also losing his son at a young age.
"I can only ask that one day you can look into your hearts to forgive me.
"But I totally understand if you do not."
Mr Isac said his client suffered vivid daily flashbacks that felt like he was reliving the incident over and over again.
Judge Down said the driver, who was suffering from genuine shock and remorse, should have stopped the mower when he saw the 4-year-old run towards him.
He said the police serious crash unit had noted that the children were unsupervised by an adult and that the driver had come across a "hazard of children", but security camera footage showed no signs that the mower was slowing down when it ran over Uetaha.
"I have no doubt that this incident has led you to a place that you would rather not be," said Judge Down.
Hastings Mayor Lawrence Yule told Hawke's Bay Today yesterday that there were "no winners" from an extremely sad event that "robbed a family of a young child" and the council of an experienced worker.
The incident had "dramatically altered his life" and he added that the judge's comments and the sentence were a reflection that people made mistakes.
"It has been incredibly difficult for [the driver], his wife and his family."
The Hastings District Council is also being prosecuted over the death by the Government's workplace safety agency, WorkSafe New Zealand. The charge relates to Section 15 of the Health and Safety in Employment Act 1992, under which employers need to take all practicable steps to ensure that no action or inaction of any employee while at work harms any other person, and carries a maximum penalty of a $250,000 fine.