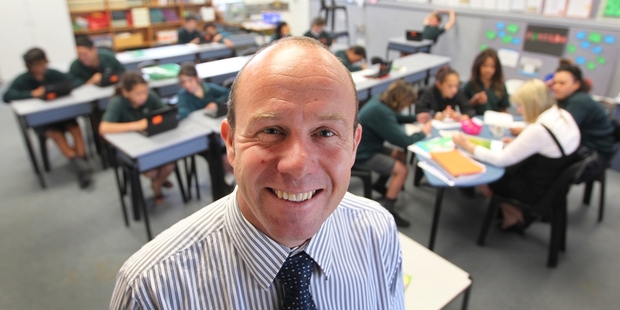 On first glance, Labour's new education policies are a step in the right direction, says a Hawke's Bay principal.
At its election year Congress at the weekend, Labour announced education policies costing $850 million over four years, including reduced class sizes, hiring 2000 more teachers, increasing teacher quality, restricting school donations, and funding digital devices.
Under the policy centrepiece of reducing class sizes, primary school classes would drop from 29 students per teacher to 26 by 2016, and secondary school classes would drop to an average of 23 students per teacher by 2018.
William Colenso College principal Daniel Murfitt said reducing class sizes needed to happen alongside a shift from traditional teaching to more discursive teaching.
"So less of the teacher up the front disseminating knowledge to more being discursive, which means having a lot more interaction with students, providing a lot more feedback, getting students to bring their own prior learning into the classroom.
"For that to happen effectively, smaller class sizes are beneficial because you're having a lot more one on one interaction."
Hiring extra teachers would also make a difference as long as they were effective teachers, he said.
Mr Murfitt said funding digital devices was a positive move.
A Labour government would provide a $100 subsidy towards buying tablets or netbooks, with parents paying off the remainder at $3.50 a week.
The poorest families could call on a $5 million hardship fund to assist if they cannot afford payments or fall into arrears.
"It's about equity and there are many students [whose] families can't afford [digital devices], and in many places you're getting those who have and those who haven't," he said.
Devices were "becoming a norm" in the classroom.
"I believe as a country we need to support all students to access the norm," Mr Murfitt said.
Education Minister Hekia Parata said it was unnecessary to reduce class sizes, and last time a Labour government introduced the policy it made little difference to student achievement.
However, Labour's policies have found favour with teacher unions and education groups.
New Zealand Educational Institute president Judith Nowotarski said yesterday Labour's plan to introduce a more rigorous pre-screening programme for teacher education would go a long way to ensuring the "best and brightest" entered the profession.
"In recent years there has been virtually no oversight of teacher training and this has led to too many courses, too many students and not enough emphasis on quality."
Labour's policy was a welcome shift from National's policy of "dumbing down" the teaching profession by allowing unqualified and unregistered people into charter schools and early childhood education, she said.