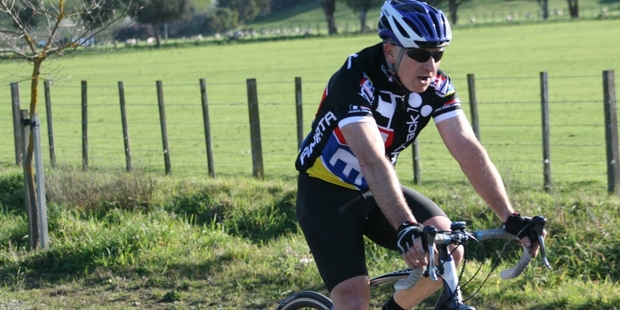 A 51-year-old cyclist who died in his sleep of heart failure led an active and healthy lifestyle, his wife says.
Brent Stuart, from Taradale, was a keen cyclist and competed in a time trial race hosted by the Ramblers Cycling Club last Saturday morning.
Mr Stuart had been eager to see the race results, but by the time they were posted late on Saturday night, revealing he'd finished second in his grade, he had died of heart failure.
Brent Stuart's wife of 19 years, Gillian Stuart, said her husband died "peacefully in his sleep" of what initial autopsy results described as a "sudden cardiac death".
"He never knew he came second."
Although it was certain Mr Stuart's death was heart-related, it would be another two to three months before she knew more.
"I hope, whatever it is, it's not hereditary," she said, alluding to her children; son Ryan, 6, and daughter Emma, 13.
She said her husband had been very competitive and recently begun racing with the Ramblers Cycling Club.
"He would push himself really hard."
An early bird, Mr Stuart exercised every morning, like clockwork.
He was always doing something - whether cleaning the pool, washing his car, tinkering in his workshop, or playing with the kids.
He was a fabricator at Hot Shot Equipment, a sporting equipment manufacturer in Napier.
Born in Hastings, Mr Stuart went to Napier Boys' High School, where "any sport he did, he excelled at".
From 1978 to 1988, Mr Stuart represented the region in under-16s and under-18s rugby.
While Mr Stuart enjoyed the occasional boutique beer or glass of red wine, he didn't smoke and was "really fit and very healthy".
However, Mr Stuart had become concerned about his heart after monitoring his heart rate during exercise.
"After exercise he'd say, 'gosh, my heart is going so fast'."
He had begun taking medication this year, but the doctor had been pleased with his condition and recently reduced his dosage.
"He was one of the most unlikely people you'd think this would happen to."
Ramblers Cycling Club chairman Gavin Bush said the local cycling community was shocked by Mr Stuart's death.
"To hear he'd died in his sleep - it was a huge shock for everybody."
He described Mr Stuart as "young, fit, strong ... definitely a dedicated cyclist and athlete".
Club captain Brett Hooker said Mr Stuart was "a likable, easygoing guy" and "very competitive".
While Mr Stuart had only been racing with the club for a couple of years, he had been a keen cyclist for some time.
"He was the kind of guy, when I found out how old he was, I was shocked."
Before he knew Mr Stuart's age, Mr Hooker had assumed he was at least 10 years younger.
"He was a very young 51."