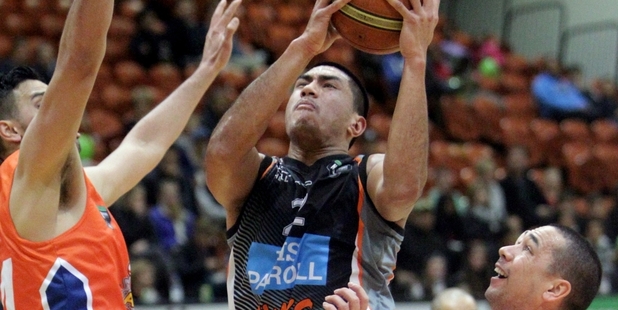 Rugby was Anamata Haku's main sport but two years into high school all that changed.
Haku had no qualms with the country's No 1 sport as the difficulty lay more with his biological constitution.
"In fourth form, I became too lanky so I didn't want to be a lock anymore," says the 20-year-old from North Shore, Auckland.
It was just as well his Westlake Boys' High School sports institution had a basketball academy.
"It [basketball] was better for my height too," says the 1.83m IMS Payroll Hawks small guard before they host Oceana Nuggets today at 7pm in the final round-robin game of the season.
The Tab Baldwin-coached Hawks are the minor premiership champions and have an unbeaten run in the Bartercard Basketball League (NBL) games at home.
If the Paora Winitana-captained Hawks win tonight, they will match the feat of the 2012 Paul Henare-coached side who were unbeaten at the Pettigrew-Green Arena, Taradale, 8-0, with a season-ending 13-3 record before bowing out 94-88 in the semifinals to eventual winners Wellington Saints.
"We can go 15-3, one better with the most wins in a regular season," says Baldwin before the Final Four in the capital city on Friday and Saturday, July 4-5.
While Henare's defending champions, Zerofees Southland Sharks, are in the top four with the Pacific Jewellers Saints and Fico Finance Nelson Giants, the Hawks won't know who they play until round 13 ends tomorrow to decide the pecking order.
"We want to go to the play-offs with momentum and good performance," says Baldwin, whose troops are eyeing only their second NBL crown in the history of the province.
Shawn Dennis has the honour of coaching the Hawks to their maiden title in 2006.
The Hawks have made the play-offs in 10 of their past 11 seasons, missing out last year under Baldwin in a winter to forget.
This year, the five-time NBL title-winning former Tall Black coach has worked his magic.
Baldwin says the Mark Dickel-coached Nuggets will be hanging tough even though they are out of the final four. The visitors beat the Hawks in overtime in Dunedin, one of only three teams to achieve that feat this season.
"They [Otago] will throw everything at us so it should be a good send-off for the fans."
All the players are back, including bench forward Darryl Jones, who had picked up a scratch in his eye last week.
Baldwin says Haku is an exciting young player who has a bright future.
"We're keen to re-sign him for an extended stay in the Bay but, like most young players, he has work to do."
A "hard-nosed" Haku is now a central part of the Hawks' rotation and just the mould of players Baldwin can do with in the lanes of contention where he can slip on the knuckleduster as a power forward to add value to the collective.
For someone who is still maturing, Baldwin says he has the propensity to find a niche at the elite level.
Haku received instant reinforcement when he moved from Westlake Boys' High in sixth form to Rosmini College to help them clinch the secondary schoolboys' title in 2011. He was named the most valuable player of the tournament.
The regime of training three times a week before classes at school slowly but surely honed his skills.
"I was becoming a better player although not everyone agreed but, by 17, I had blossomed."
The son of a Maori truck-driving father, Paul, and Samoan mother Jacinta, an early child educator, sees the blend of his genes as a pivotal factor in his growth and development.
"I'm a big and athletic Maori Islander. My size comes from both sides of my family."
His father was rugby savvy so Haku's two younger brothers are still into the sport.
"My father supported me more than when I started playing basketball but that's because he didn't understand it like he does rugby."
He made his NBL debut for the North Harbour Heat, in recess for two seasons, before moving to the Waikato Pistons last year where they only won two games.
"It's a lot different environment here, especially when you're in a winning team," he says, emphasising winning definitely provides extra motivation.
Finishing on a high note tonight in front of their home-town fans is on the Hawks' agenda, he reveals.
Haku is lapping up a wealth of experience and advice from ex-Tall Blacks Winitana and Everard Bartlett as well as Napier-based US import Kareem Johnson.
His ambition is to play at an elite level and to represent his country.
"I want to play in the Aussie league in two years and take it as far as I can, even to Europe."
Baldwin's workout is testing but he is enjoying it and absorbing a lot.
He is itching to make the Hawks' starting five but is prepared to bide his time.
Free of any attachments, Haku misses the big city life, his family and his mother's cooking but loves the balmy Bay weather.
The Nuggets lost 106-97 to the Manawatu Jets last night in Palmerston North.
Power forward Brendon Polyblank is travelling with the team but did play because of a broken nose picked up during a game and had surgery for it.
Listed as assistant coach, he was on the sideline with player/coach Dickel.
Whether the pair will play tonight remains to be seen.
"We probabaly had more depth than them," Jets coach Darron Larsen said last night.
The hosts led 28-18 in the first quarter before the vistors levelled terms, 50-50, at halftime.
"It wasn't a pretty game from the coach's perspective but the fans would have enjoyed it," Larsen said, adding Otago imports Brandon Bowdry and Warren Carter leading their side's scoring in the 20s. The Jets play Waitakere next in the hope of finishing 9-9.