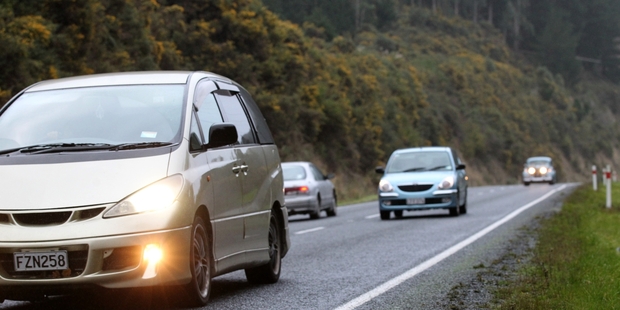 Overseas drivers were involved in 20 injury crashes in Hawke's Bay in the past two years, new figures show.
Crashes involving foreign drivers comprise 2.3 per cent of all 860 injury crashes in the region during 2012 and 2013, according to New Zealand Transport Agency figures.
Four of the overseas driver crashes resulted in serious injury and none was fatal.
Last year, overseas drivers were involved in at least 558 crashes nationwide that resulted in death or injury.
The visitors were found at fault in about 75 per cent of crashes, including 11 fatal accidents.
At Queen's Birthday Weekend, four people were killed by foreign drivers in two fatal accidents.
Johannes Jacobus Appelman, 52, of Holland, failed to stop at a stop sign in Rakaia on May 31 and crashed into another vehicle, killing Abigail Hone, 12, her friend Ella Summerfield, 12, and Ella's mother Sally, 49.
He has since pleaded guilty to three counts of careless use of a vehicle causing death and one charge of careless use of a vehicle causing injury.
The previous night, on the Coromandel Peninsula, US tourist Cody Dickey, 23, crossed the centreline in his campervan, killing Aucklander Robyn Eilleen Derrick, a passenger in an oncoming four-wheel-drive. He was ordered to pay $5500 for emotional harm and was disqualified from driving for 18 months.
Metro Vehicle Rentals Napier manager Grant Miller said the company did not see as many tourist drivers as the airport-based bigger rental companies. However, some American and English tourists hired vehicles.
Most tourists had already hired vehicles in main centres before driving to Hawke's Bay, he said.
The company's vehicles had "Keep left" stickers on dashboards and he gave safety briefings to American tourists, as they drove on the right side of the road in their own country.
"Most of them are pretty intelligent folk - they've done a lot of travelling beforehand."
New Zealand law requires visitors to hold a current and valid overseas driver's licence or international driving permit in order to drive.
NZTA says the Government is working to reduce road crashes through its Safer Journeys strategy.
Rental car companies had also implemented safety measures such as pre-travel emails to customers, on-site safe driving instructions, "Keep left" stickers on vehicle windscreens and showing customers a safe driving video, NZTA said.
Road safety director Ernst Zollner said driver fatigue after long-haul flights and unfamiliarity with roads and road conditions affected overseas and New Zealand drivers.
NZTA was working with police, ACC, local government and the Ministry of Transport on a road safety project aimed at "visiting drivers", with the initial focus directed toward the South Island, he said.
It would look at why overseas visiting drivers experienced difficulties on New Zealand roads and how to encourage safer choices. From April, driving video footage developed by Tourism NZ and NZTA was being screened on in-bound Air New Zealand flights from China.
Mr Zollner said crash data showed many more New Zealanders were killed and injured by other New Zealanders on our roads than by overseas drivers.
"But while serious crashes involving overseas visitors and tourists are relatively rare, each one is a tragedy for all of those affected."APNZ