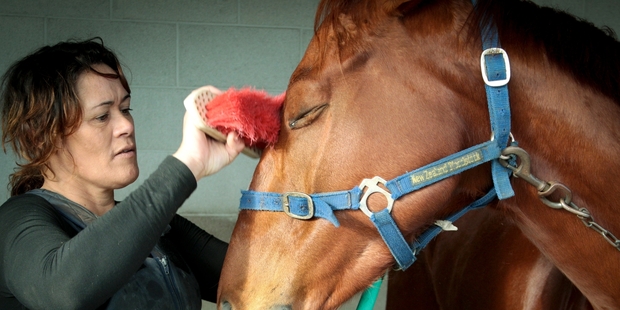 No one knows better than owners, breeders and trainers to look a gift horse in the mouth.
Hawke's Bay breeder/owner Don Gordon must have certainly got an affirmation when Survived was born a shade more than four years ago in Raukawa.
Born closer to the dimensions of a hare, Gordon wondered if the colt was worth keeping and is now grateful he listened to stud master Arthur Ormond.
Aptly named Survived, the gelding today remains on track to pick up the Rush Munro's Hawke's Bay Spring Racing Carnival's triple crown this year.
However, Survived is coming out of an injury lay-off but Gordon on Tuesday gave him a thumb's up on his medical fitness.
"We're quite happy with him. The injury has healed quite well," says the 81-year-old from Hastings, after Survived had a paddock injury in Wellington following the Thorndon Mile in January. The injury caused the horse to miss the 2000m weight-for-age at Te Rapa a fortnight later.
"It all turned to custard in the accident," Gordon said.
The horse is now under the tutelage of Bay trainer Kelly Burne, who had broken him in, but Gordon sought trainer John Bary's services after Burne broke her back in December 2012.
"When he got hit, he had an injury between the pastern and fetlock. For two months, Kelly had to bandage it every day until it healed properly," says Gordon after Survived spent two months at his Raukawa property before moving to Burne's stables in the past fortnight for some trotting track work.
"All going well he'll be at the 1400m Mafki Challenge Stakes on August 30," he says, adding the Ellerslie 2000m in Auckland a fortnight later is also on the cards.
Under former trainer Bary, the horse, sired by Zed and 16.1 hands high, won one Group 1 race.
Bary reiterates sentiments from last spring that Survived is "an untapped horse" who will be at his prime in the next two years.
"You can quote me in saying he has the potential to win the Bay treble crown," says Bary, whose career highlight to date was training retired stallion Jimmy Choux.
To put Survived in perspective, New Zealand Horse of the Year Jimmy Choux had clinched three Group 1 titles and pocketed owners/breeders Richard and Liz Wood $2.8 million at the same stage of the gelding's career last year.
Sydney-based Kiwi trainer Chris Waller had designs on Survived who has beefed up since.
"I had to talk my arse off to keep him [Survived]," Bary says.
"I feel sorry for Kelly because she's in a no-win situation with Survived so I wish her the best of luck."
Gordon says he has no intentions of exporting the galloper.
"I want to have a horse around and see him at the end of the day. I certainly don't put pressure on Kelly to perform."
Gordon bred his first foal in Pukekohe in 1954, selling the yearling to Hastings trainer Jack Ryan who bought it at Trentham for the Hope brothers two years later.
He bred Mun Lee, voted the Filly of the Year in the 1977-78, who went on to won 14 titles including the group 1 Waikato Lion Brown in 1981.
Mun Lee came back to stud from a season in Australia but sustained internal fatal injuries when another horse shunted it against a post.
"In 60 years I've been breeding horses, I've never had a foal that developed and improved like Survived," he says.
He has had the Survived lineage since 1974.
However, Mun Lee's half sisters, third dam Secrecy, and Cold War, grand dam to Saint Kitt, featured in Gordon's matrix.
Secrecy, who won seven races, was sired by Diplomatic Agent.
Cold War was sired by War Hawk, the last foal of Phareno. Three fillies and a colt to Paherono, from Great Wall, either died accidentally or from contracting diseases.
The Wall Fisher-bred Phareno, sired by Pharemond, was the descendant of a Hilmar brood mare, a top galloping line belonging to stud owner Jack Mackey in Pirongia, Waikato.
Secrecy's first foal was Political, from Liberal by Generous, which won four races.
Liberal's first foal, Quality Street, was by Coat's Choice and Survived followed, sired by Zed.
Quality Street, who is in foal to Zed, is expecting a three-quarter sibling to Survived this spring.
Gordon leases Saint Kitt to Burne who also is a member of the Scott syndicate.
She laso trains his other horses, Pit A Pat, Base Camp and an unnamed 2-year-old filly by Shinko King out of Mayfair.
Gordon is hoping Opie Bosson will again ride Survived at the spring carnival.
Bosson got hurt before the premier 2200m Turks Spring Classic of the triple crown last year so Hayden Tinsley jumped into the saddle.
"John Bary says he'll be at his best when he's 6 years old but we won't know that until it happens so it's all surmising for now."
Gordon says Australia is on the horizon but should Survived perform here in spring, something they know he is capable of, then Melbourne will beckon.