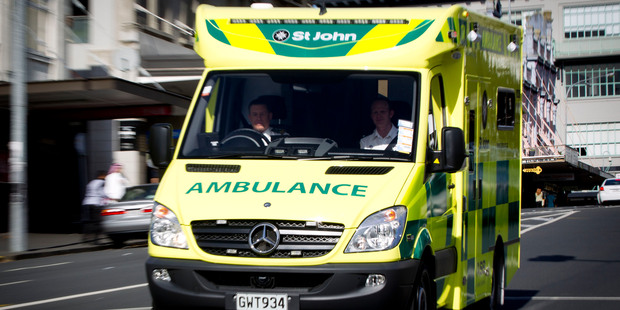 The next Anglican Bishop for Waiapu says he intends to continue working as a St John Ambulance officer when he takes up his new role in Napier later this year.
Bishop-elect Andrew Hedge is currently the Vicar of Cambridge and regularly works shifts as an ambulance officer.
The Anglican church yesterday announced that bishop-elect Hedge would be the new Bishop for Waiapu. Diocesan representatives selected the new bishop in Havelock North last weekend, but his acceptance was kept confidential until the wider church sanctioned the nomination.
"I was excited, overwhelmed and humbled when I received the call and now there is a great sense of expectation about the future," bishop-elect Hedge said.
"To live and work across the Waiapu Diocese, to build relationships in the church and the community that tell of God's love is a real privilege."
He has been vicar of Cambridge for six years and has three school-age children with wife Raewyn.
"The children have all been wanting to know when they could tell their friends and share the exciting news. It will be good for us as a family to be able to do that with friends and colleagues in the community this week."
Born and raised in South Auckland he said he realised he had a vocation at the age of 19.
While he has no personal links with Hawke's Bay he said his whole family were looking forward "to a new adventure".
"When I first become bishop I look forward to listening and getting to understand the people and the places where they live, to see where God is leading us."
The Waiapu Diocese includes Tauranga, Rotorua, Turangi, the East Coast and Hawke's Bay.
Archbishop Philip Richardson, the senior bishop of the New Zealand Dioceses and a bishop of the Diocese of Waikato and Taranaki, said he admired the ministry the bishop-elect developed in Cambridge.
"I really do believe that Andrew will bring a great deal to the House of Bishops," he said.
The bishop-elect achieved his National Diploma in ambulance practice last year and on Saturday was made a Member of the Order of St John, in recognition of his commitment to the community and St John.
Brent Nielsen, a commander of the order, said the bishop-elect's commitment was undeniable.
"As chaplain, paramedic volunteer, committee member and parent and supporter of youth activities, his work in the church and St John compliment each other," he said.
The ordination is expected to take place at the end of this year.
The bishop-elect said while he was a chaplain for St John, when on duty he was primarily an ambulance officer.
He had not yet prayed with a patient "but some members of my congregation have looked very relieved to see me".
"I have been able to offer another level of care for them, just simply because I was somebody they knew."
Former bishop David Rice, who served for five-and-a-half years, left in February to become bishop of the Episcopal Diocese of San Joaquin in California.
Meanwhile, when told that the new bishop intended continuing work as a St John Ambulance Officer, St John District Central Region operations manager Stephen Smith said this would raise no eyebrows.
"We already have a member of the clergy working with us as we do right through the country," he said.