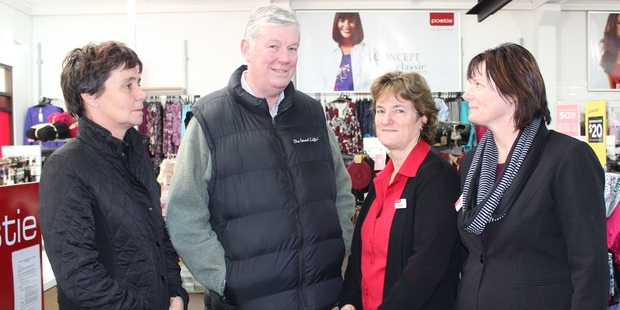 The four staff at Dannevirke's Postie clothing store were reeling yesterday following news their jobs are gone when the business closes early next month.
"It's going to be a very long day but we've still got to be professional," said Robyn Butterfield, the second-in-charge at the store, wiping away tears.
Shop assistant Kathy Massey was also trying to hold back the tears.
"I'm in shock but I don't think it's really hit yet," she said. "We have such a good team working here and the news [of the closure] is gutting. The business has been doing so well."
Branch manager Melanie Ritchie said the staff had received amazing support from Dannevirke people who had heard news of the closure.
"Our sales have been great for the last six months, so this is tough," she said.
Meanwhile, the workers' union is seeking advice on what it said was a "highly irregular" move to close 12 of the 82 Postie stores.
FIRST Union general secretary Robert Reid said neither employees nor the union were advised there was a review of the future of stores and the union was seeking legal advice.
The four Dannevirke employees are some of the more than 60 Postie staff who will lose their jobs as a result of the closure, after administrators were appointed to the clothing retailer when its lenders withdrew support as the company continued to make ongoing losses. On Wednesday, staff were told 12 retail outlets would close, while a further 70 stores, including one in Waipukurau, would continue to trade, as will the Napier-Hastings stores.
"The [12] stores aren't viable, so unfortunately we have had to make those decisions," said Colin McCloy, of administrators PwC.
Tararua District Mayor Roly Ellis visited staff yesterday and said it was sad the decision had been made to close the store.
"There is a very stable staff here now and they have been doing well," he said. "Things had really turned around and the people of Dannevirke are going to miss this business."
Mr Ellis said the closure could see residents going out of town to shop, a trend his council and the Dannevirke Chamber of Commerce have been battling to reverse.
Chairman Suresh Patel said: "The closure is a body blow for our town, especially as the chamber of commerce works hard to try and bring more business and retailers into the CBD.
"News of the closure is extremely disappointing for the staff and the community," he said. "It's disappointing to lose a franchise with such a large brand when we are working really hard to lure franchises to Dannevirke. Postie filled a niche here but unfortunately it may have been compared to the Postie outlet in Waipukurau, where there is no competition from The Warehouse or Ballantynes."
However, Mr Patel said the chamber members were remaining positive.
"We're working hard to boost business with so much going on behind the scenes," he said. "We need to have our shops filled, but I suspect what we're experiencing at the moment is no different to what is happening in other rural towns."
A regular Postie shopper told the Dannevirke News the closure was a blow.
"It's such a shame," the woman said. "They have had such a good range of stock lately and I'll miss the store."
For the previous owners of the large High St building, news of the closure is disappointing.
In July 2010, Elaine and Ray Teahan packed up their business, negotiated a lease with Postie then sold the property to Dannevirke's Colin Last.
"I'm sorry Postie is to go, it's a big shop on Dannevirke's High St and the company spent a lot of money renovating those premises," Mr Teahan said. "But I think there's a lot of competition out there now."
Along with Dannevirke, the Birkenhead, Bishopdale Men's, Bishopdale Women's and Kids, Gore, Mt Roskill, Papatoetoe, Rangiora Kids, St Luke's, Sydenham, Te Kuiti and Westgate stores will all close in the first week of July.
Meanwhile, the historic former BNZ building on the corner of High St and Gordon St has been sold and is currently undergoing refurbishment into office space.