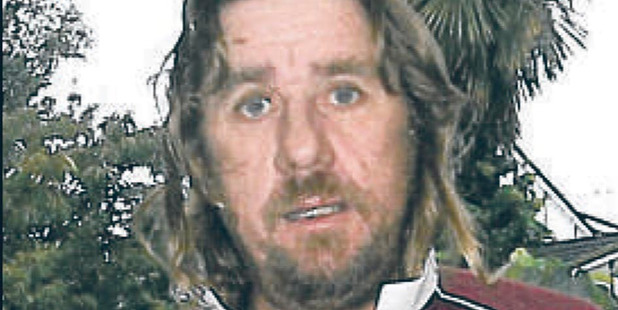 A murder accused's former partner says she witnessed her ex give Johnny Wright a "hiding", before watching the "harmless" Hastings man wipe his own blood from the walls.
Steven Tiwini Rakuraku, 39, is facing 12 charges, including the alleged kidnapping and murder of Mr Wright, who disappeared on June 21, 2011.
The 50-year-old's body was found in a shallow grave after police acted on information when Rakuraku's partner "came clean", leading detectives to search a rural property near Eskdale two months after his disappearance.
Rakuraku denies all the charges against him.
His 40-year-old former partner gave evidence yesterday during the Napier High Court trial and told of how she first met Mr Wright in Hastings in early 2011.
"Mr Rakuraku went out and introduced himself to Johnny on the street," she told the court.
"When I first met Johnny he looked harmless."
She believed Rakuraku "befriended" Mr Wright because they were both marijuana smokers but discovered the murder accused was looking for a "safe house".
"I know his intentions were to stay at Johnny's [and] to find a place to hide because he was wanted.
"He was on the run. He had himself an alias name and he moved from places to places."
She recalled a time when Mr Wright was driving to Dannevirke to run an "errand" for Rakuraku but the car broke down, leading to a beating.
"Johnny didn't make it to Dannevirke because the car ran out of petrol. Rakuraku got upset and angry - he punched him in the face."
She said Mr Wright returned the vehicle with the aid of his mother the next morning and added it was the first time she had seen Rakuraku assault Mr Wright.
"I was afraid to intervene. Mr Rakuraku would have started punching me or slapping me around," she told the court.
"It was still fresh in my mind the first hiding I received."
Crown prosecutor Steve Manning asked the 40-year-old woman if she had been assaulted by Rakuraku.
"Yes, I was black and blue, bruises to my eye. A big dent, lump, on my forehead - He would kick me to the body," she said.
"Once you go deeper into a relationship you see changes in the person and wonder if you are doing the right thing."
As part of the 12 charges, Rakuraku also faces a count of male assaults female and is alleged to have assaulted the 40-year-old.
She went on and said it was Rakuraku's idea for the couple to move into Mr Wright's Warwick Rd flat.
"He liked to be in control of everyone's business."
Rakuraku, having taken over the flat, covered the ranch slider doors of the home with black rubbish bags to stop neighbours "peering in", she said.
The 40-year-old said she saw Rakuraku beat Mr Wright "on many occasions" at the Warwick Rd house.
"Yes, it would cause him to bleed - from his face. He would start wiping down the walls with his own shirt, cleaning his own blood."
She said Rakuraku utilised a "martial arts style" and kick boxing moves to "beat the s*** out of Johnny".
Since the start of the trial Rakuraku has represented himself after he fired his lawyer, Russell Fairbrother QC.
However, Justice Williams appointed an amicus curiae (friend of the court), consisting of Mr Fairbrother and co-counsel Leo Lafferty.
This has restricted Rakuraku from cross-examining witnesses that are also complainants, such as his former partner.
The Crown's prosecution is led by Mr Manning and Jo Reilly.
Rakuraku's former partner is expected to give more evidence today as the trial continues.