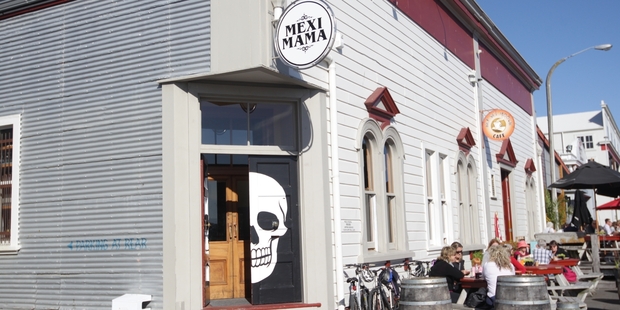 Winter F.A.W.C! got off to a fantastic start over the weekend with all events sold out.
If you want to join the fun this month, try a "F.A.W.C! by 5" meal with participating restaurants, which are offering menu specials in multiples of $5, totalling no more than $50 per person.
On Thursday night I went along to Mexi Mama in Ahuriri to try its "F.A.W.C! by 5" dish,
For just $10 you get an eight-inch quesadilla dinner of slow cooked shredded chicken in chorizo, chipotle, onion and tomato sauce with melted cheese on a flour tortilla with coleslaw salad tossed in coriander vinaigrette. The place was humming when I arrived at 7.30pm. I was met at the door by Jamie Buckley, who is "running the place" along with his father. "I came back from overseas to manage the family business," he said.
Jamie was warm and friendly and invited me to try a "couple of other dishes while you are here".
Because I was at a Mexican restaurant I had to have a margarita.
I left it to Jamie to decide which one I had. He chose Flor de Jamaica, which had el Jimador tequila, agave nectar, six barrel hibiscus soda, fresh lemon and lime with strawberry himalayan salt rim.
It was luscious with a good kick in its tale. While I was sipping on this, Jamie returned to the table with guacamole con Totopos served in a "volcanic holder all the way from Mexico".
The guacamole fresh avocado, tomato, onion, coriander & sesame seeds accompanied with corn chips was fresh, light and very moreish, as were the corn chips.
Then I tried the skillet cornbread served with chipotle aioli. It was served wrapped in paper all steaming hot with a mouth watering smell. It tasted as good as it smelt.
Next came the F.A.W.C! by 5 dish, the eight-inch quesadilla dinner. I couldn't get over the value. Honestly $10 for this dish is amazing, it's simple but tasty and satisfying. "We wanted to keep the dish simple and uncomplicated. It's great for kids as well," Jamie said.
I finished with a Flan de coco, - a creme caramel flan with coconut cream ... yummy.
All the dishes were well presented in simple ways.
Mexi Mama makes dining out affordable and fun. The food is fresh, tasty and satisfying.
Mexi Mama: 56 West Quay, Ahuriri, Napier.