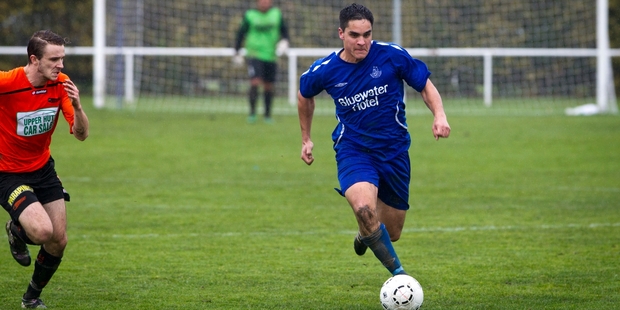 Managing the workload is something Josh Stevenson takes in his stride with aplomb during his beat as a police officer.
"Shift work is not easy," says the 25-year-old Bluewater Napier City Rovers striker who will run on against Petone FC at Park Island, Napier, when the Lotto Central League soccer encounter kicks off at 2.30pm today.
On Monday, the Bill Robertson-coached Blues will reload for a 2pm kick off in the Chatham Cup (national knockout) match against table-topping Wellington Olympic at Bluewater Stadium.
"My boss is pretty good so I'm banking on him giving me a change of shift to play on Monday," says Stevenson, of Hastings, who'll make a beeline for his beat straight after a quick shower following the cup match on Monday to finish his shift at 11pm.
"I'll just be starting work while others put up their feet."
The stocky customer helps spearhead the strike with nippy Welsh import Miles John and teenager Angus Kilkolly.
For someone who had a penchant for dribbling past defenders once too often to cough up possession, Stevenson now comes under a little bit of heat for not displaying more selfish traits that are a prerequisite for strikers.
"The coaching and management staff are always giving me heaps about having a shot," says the man who has scored three times in the league this season.
Centreback Roberston says Petone are a mid-table side but are usually well organised but it may be another tough match.
"We'll be out to retain the O'Brien Shield and pick up another three points," he says of the Danny Wilson-captained, third-placed Rovers who have yet to lose a match at home this winter.
With winter finally arriving, the players will relish the cooler temperature.
"It's obviously not usual for the players who'll play two games in three days so we'll do the right things because of the changes it may have on their bodies."
Stevenson says the Graham Little-coached Petone have the propensity to call the pundits' bluff through sheer hard work, something that has been prevalent in the past few seasons.
Petone's engine room is slick, always looking to slip a ball to lanky Paul Whitmarsh at the coalface.
"Whitmarsh has scored seven goals this season," Stevenson says.
No doubt, playing the Greeks on Monday will be a bigger ask, considering they beat the Blues 4-2 in Wellington in the away round.
"The Greeks will be tougher but we still have to beat Petone before we worry about Monday," he says.
The Blues dominated the first half against the Mick Waitt-coached Olympic, nudging ahead 1-0 through English import Ryan Tinsley before going into the break level, 1-1.
"We were very dominant in the first spell and lost 4-2 so it came back to bite us," says Robertson, mindful the Chatham Cup brings a do-or-die scenario.
"The cup is a privilege for the players because of its history and all the media hype around it in the season so it definitely works for us."
Stevenson is confident the Rovers will beat not only the Greeks but also second-placed Miramar Rangers - who beat the Blues 5-1 in Wellington on April 12 - at Park Island.
In fact, he reckons the first-half display against Olympic in the first round "is the best half I've ever played with the team".
"We absolutely smashed them that day [May 3] but we just couldn't put it in the net."
Stevenson says it's never easy for visiting sides to win here after an arduous road trip from Wellington.
Unwanted Hawke's Bay United coach Chris Greatholder returns to the squad.
The latest inclusion, striker Sam Messam, also comes into the equation after coming off the bench for a few minutes in the 2-1 win against Palmerston North Marist last weekend.
WEEKEND DETAILS
WHO: Napier City Rovers v Petone FC.
WHEN: Today, 2.30pm kick-off.
WHERE: Park Island, Napier.
Referee: Matthew Conger.
AR1/AR 2: Gareth Sheehan/Gordon Harris.
ROVERS: 1 Jonty Underhill (GK), 2 Josh Anstis, 3 Daniel Ball, 4 Bayley Chadderton, 6 Miles John, 7 Matt Hastings, 8 Stu Wilson, 9 Sam Messam, 10 Andrija Ilic, 11 Andy Bevin, 12 Oli Chapman, 14 Josh Stevenson, 15 Ryan Tinsley, 16 Danny Wilson (c), 18 Angus Kilkolly, 20 Chris Greatholder, Kyle Baxter (RGK).
Coach/player: Bill Robertson.
Manager: Malcolm Wilson.
PETONE: 1 Daniel Clarke (GK), 2 Craig Alderdice, 3 Logan Archer, 5 Jake Theron, 6 David Lane, 7 Sam Pickering, 8 George Milne, 9 Paul Whitmarsh, 10 Michael Pickering, 11 James Hill, 12 Anu Singe, 13 Reiner Bauerfeind, 14 Richard McLay, 15 Mitchell Blair, 16 Grant Robson, 17 Benn Dawson, 19 Morgan Blair, 20 Josh Ebert, 21 Hamish Smylie, Simon Rippon (RGK).
Coach: Graham Little.
OTHER GAMES
Lower Hutt v PN Marist: Fraser Park, 2.30pm today.
Tawa v Wairarapa Utd: Redwood Park, 2.30pm today.
Upper Hutt v Western Suburbs: Maidstone Park, 5.30pm today.
Wellington Olympic v Miramar Rangers: Wakefield Park, 5.45pm today.
CHATHAM CUP
Napier City Rovers v Wellington Olympic: Park Island, Napier, 2pm, Monday.
Havelock Nth Wanderers v PN Marist: Guthrie Park, 2pm, Monday.