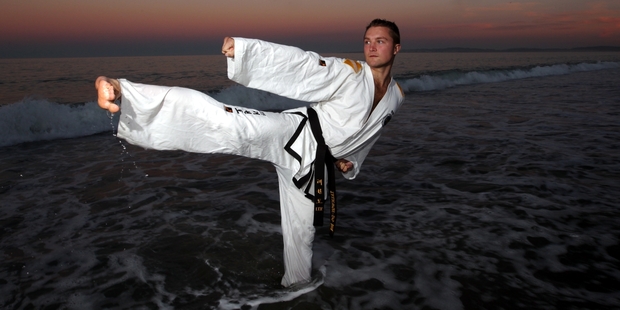 When Ben Evans, 23, put together a taekwondo programme for special needs students as part of a school project, he never dreamed it would spread across the globe.
The Napier-based taekwondo instructor told Hawke's Bay Today he was really stoked to learn he was a nominee in the inaugural Pride of New Zealand Awards, which celebrate exceptional Kiwis across six categories.
Mr Evans nomination was well deserved after his tireless work enriched the lives of special needs people in New Zealand and abroad.
Mr Evans vocation was solidified when, after moving to the country from the United Kingdom, a PE project at Havelock North High School presented him with the opportunity to teach taekwondo to special needs students. The classes proved a success and he continued teaching after he left school.
"On my last day of school I went to the special needs students and asked if they wanted to keep going."
They said yes straight away - there was no trying to sell it to them. Mr Evans programme proved infectious; spreading to Taradale High School, Kowhai Special School and then across the region.
Kowhai Special School received funding from Kiwisport to pay for Mr Evans classes and when the funding ran out, he continued teaching free of charge.
"Just seeing the changes in the kids was enough," he said.
Mr Evans believed taekwondo was giving his students a noticeable self-esteem boost, along with other mental and physical benefits.
"One of the best things about taekwondo is the group bonding among all students during training."
In 2011, an AMP scholarship allowed Mr Evans to take one of his students to Korea for the 2011 taekwondo world championship, hosted by taekwondos head body, the International Taekwondo Federation.
Mr Evans student, whom he described as a taekwondo pioneer, was named Johann Landkroon and gave a demonstration to 5000 spectators.
It was Mr Landkroons demonstration that put special needs taekwondo on the map. Special needs taekwondo is now taught in 22 countries.
However, Mr Evans was based in Napier. The Napier-based 3rd degree black belt keeps himself busy.
He taught 17 classes a week across the region and had even published a book: Special Needs Taekwon-Do, a guide for instructors and students.
Mr Evans was pleased to announce that after tireless campaigning, the Special Olympics headquarters planned to recognise taekwondo by 2015.
Mr Evans, who has been doing taekwondo since the tender age of seven, is also hoping to get his 4th degree black belt this year.
Reflecting on the breakneck success of his programme, Mr Evans said he was amazed by what he had achieved, but he had accomplished his goals with motivation and perseverance.
"I just look at the bigger picture. I love a challenge and Im prepared to work hard to see the result."