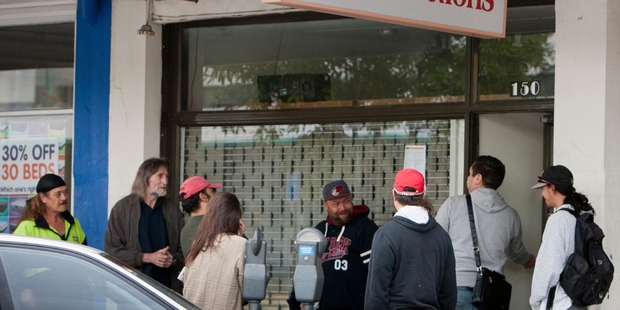 The owner of the Adult Selections Napier store says he isn't bothered by an emergency law removing legal-high products from his shelves.
The Psychoactive Substances Amendment Act, which became law at 12.01am yesterday, will remove all remaining psychoactive products on the market after it was passed on Tuesday night under urgency.
Arriving at Adult Selections Napier yesterday, Hawke's Bay Today saw a steady flow of customers emerging from the store with legal-high products.
Asked if the store had seen a spike in business following the announcement of the imminent ban, Napier and Hastings Adult Selections stores owner Steve Batty said "not specifically, no".
"There's been no change at all, really.
"The type of people buying these products don't have a large amount of cash to spend."
In response to reports that he would be downsizing his staff as a result of the ban, he said "we may do but we'll deal with that when the time comes".
Mr Batty would not be drawn on whether the recalling of legal high products from his shelves was a blow for the store.
"We've lost one line of products. We'll continue as a basic adult shop," he said.
Mr Batty said he would rather see people smoking legal highs than P or crack.
Asked if he hoped legal high products would return to shelves, Mr Batty said he wasn't bothered either way.
"There may be something in the pipeline. There are thousands of drugs out there not covered by the Act," Mr Batty said.
Adult Selections Napier had been the only place where legal highs were available in the region after licenses were suspended for two Hastings stores.
Napier Mayor Bill Dalton said the overall impact of the amended Act would be positive for society.
However, Mr Dalton said there would be issues with people "coming off the stuff".
"Clearly, the product is addictive. There will be short-term pain, but a long-term gain for society."
Mr Dalton said young people who wouldn't ordinarily take illegal drugs, but had experimented with synthetic cannabis because of it's legality, had had the temptation removed.
Hastings Mayor Lawrence Yule said the ban "had to happen".
"What's happened here is we've unleashed a type of drug into our community that nobody understood the side affects of."
Legal highs were causing wide-ranging adverse side affects, and Mr Yule said he applauded the Government for bringing in a strong testing regime. Undoubtedly there were dangers of people stockpiling the drugs in advance of the ban, which is why the issue had to be dealt with swiftly, he said.
Hastings District councillor for Flaxmere Henare O'Keefe said the ban was a "quick fix" which would fail to address deeper social issues.
"We have to ask why.
Why are these people seeking a high? What's missing in their lives?"
Taking the products off the shelves was "not getting to the heart of it," Mr O'Keefe said.
"The cog in the wheel is parenting ... We need to look at the standard and quality of parenting.
"Unfortunately, politics is playing a part in it. I don't think that all of a sudden, the central Government has had a change of heart, this close to an election."
The New Zealand Drug Foundation yesterday urged police to hold off on prosecuting people for possession of psychoactive products for at least the next six months.
NZ Drug Foundation executive director Ross Bell said the foundation was calling on police to "press pause" on their enforcement of possession of psychoactive products.
"One of the biggest barriers for people asking for help for themselves or others and getting into treatment is the fear of getting busted."
Mr Bell said there is precedent for not prosecuting people for possession offences immediately after a product ban.