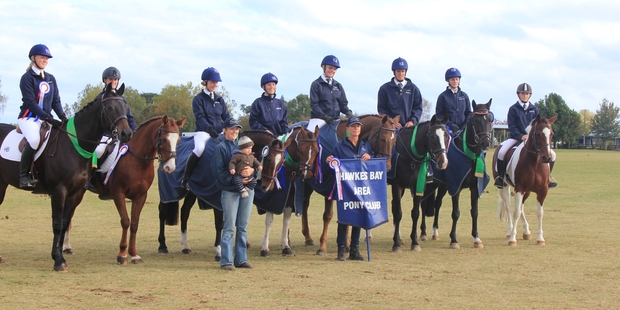 THEY ARE not the top guns in the country in horse trials but the Hawke's Bay Area Pony Club team are second to none when it comes to the equine etiquette of horse care and horsemanship.
"It [horsemanship] puts the welfare of your horse ahead of everything else - the yard is mucked and watered and there's hay there all the time," explains Zoe Strawbridge after the Bay contingent returned from the Waikato Area Pony Club-hosted nationals last weekend, finishing fourth overall in a field of 12 at Kihikihi Domain grounds.
The Bay won the Quality Presentations Team Management Award involving 238 pony club branches with more than 9400 riders from as far south as Otago-Southland to the top in Northland.
"We weren't quite on to it in the dressage, really," says the 16-year-old from the outskirts of Waipukurau after the Bay had to settle for ninth place on day one following the dressage phase.
They negotiated the challenging crosscountry section on day two to peg them back to fifth before consolidating the fourth position in the showjumping discipline.
Pony club national president Heather Grant, of Otane, said: "It's the best Hawke's Bay placing we've had in years."
Bay team manager Jo Wynne-Lewis expressed similar sentiments, lauding her troops for claiming the team management award which recognises quality of horse care and horsemastership, a "just recognition of the integrity of the team".
"[The team] had not only ability but real team spirit," Wynne-Lewis says.
Franklin Thames Valley are this year's champions with Auckland the runners-up and Waitemata Rodney third.
Strawbridge says the horse-care component entails the gear element of ensuring the mount is equipped with proper saddle and bridle, jumping boots and the aspects of grooming.
Each member of the team, including the manager, coach and the reserves, received a rosette although the reserves must be present throughout the four-day championship to receive one.
It's a teams' championship comprising a maximum of six riders involving three divisions - that is, A1 riders 17 years and under 21; DC riders 16 years and under; and MT riders 14 and under.
All must have a maximum of two riders a team. Individual titles are also up for grabs in each division.
Strawbridge, a Central Hawke's Bay College year 12 pupil, who rides 13-year-old gelding Roo Baloo, says looking prim and proper is imperative in dressage.
"We need to do more work on it. Everyone has done a good job to get in the team but everything has to be correct," she explains, adding it often came down to "horses listening or not" on the day.
Some Bay combinations went nicely but were not good enough compared with top opposition.
"The judging was quite tough but it was also quite fair."
She reckons a fair bit of imperfection lay with riders, too.
"If you're not giving the horse a fair chance to go over a fence then it'll look at you [as if to say], 'I can't do that'," says the teenage daughter of livestock farmers Donald and Janeane Strawbridge.
Isaac Twigg, who lives not far from the Strawbridges, and Tessa Wallace, of Hastings, were fifth and sixth, respectively, in their age-group trainers' category after three sections of competition.