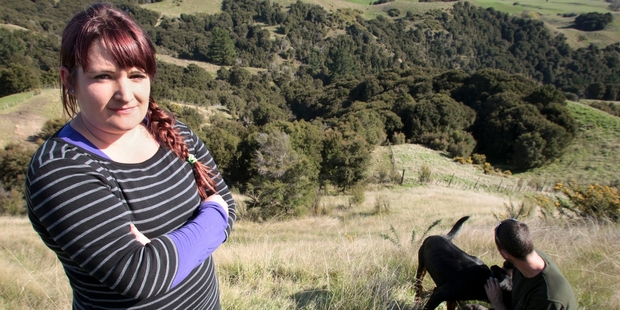 Two dogs which went on a sheep mauling rampage on a Puketapu lifestyle block over two days last week have been put down by their owners.
The dogs, described as mastiffs, a male and a female, which came from two separate properties, left Melanie West and her partner Andrew Wragg without a flock to tend.
They had two rams and 14 ewes and all died during or after the attacks - although two were missing but believed to be lying dead somewhere on the 30-acre block.
"The ewes were all in lamb too," Ms West said. "It's not good but it's a loss-loss for everyone because we have spoken to both dog owners and they are upset - they were their pets."
The owners had been involved in trying to track the marauding pair down and rang the neighbouring properties to alert them after realising what was happening.
Ms West and Mr Wragg came across the mauled sheep, covered in blood and mud, on Friday about noon.
"It would have happened on the Thursday night," she said.
They were checking on a bulldozer in a paddock and would usually be "harassed" by one of the rams who was semi-pet like and called Sam the Ram.
"We raised him - used to bottle feed him and he'd give the kids rides." They became concerned when he did not show up and went looking for him and came across the grisly scene at the bottom of a steep hill.
"Oh it was like a terrible war scene - blood everywhere and they were all lying along the strip [of fence]."
It was while checking to see if any were alive they came across the collar which the female mastiff had been wearing and which had broken off.
"That's how we were able to track them."
They called animal control who identified the owners and contact was made.
Mr Wragg then joined up with a friend and began a search for the dogs.
Other neighbours, and one of the dog owners, joined in.
At one stage they came across the pair which were attacking a yearling and a cow.
The owner had no hesitation in saying "shoot them, shoot them".
The dogs were able to escape however but the shots frightened them into returning to their own properties.
The yearling died.
One dog was shot by the returning owner and the second was taken to a vet by a woman at the house as her husband was away. It was put down.
Ms West said both dog owners had been in touch and offered to sort out compensation or to replace the sheep.
"They've done all they can do. It's not bad ownership - we understand because we have got dogs ourselves - they can be Jekyll and Hyde."
Ms West said the incident illustrated that everyone could learn from the threat of normally behaved dogs cutting loose, and that possibility could not be ignored.
She said 4-year-old daughter Jamee-Lee was aware that Sam had died.
"He lasted a day [after the attack] but just deteriorated. We had a special burial for him."
The couple had been planning to double their flock through the lamb arrival and looking at then selling some to buy a few cows.
They would wait until compensation was sorted before deciding what to do, but would probably slowly replace the flock.
"We're lucky it's not our livelihood - it was farm-running money," she said, adding she and her partner both worked in town.
She said what should have been a pleasant weekend in the sun was not - they spent most of it retrieving and burying the dead sheep which were at the bottom of the steep bank they had been chased into and killed, as well as sawing through gorse and bushes to get to a couple which had fallen in.