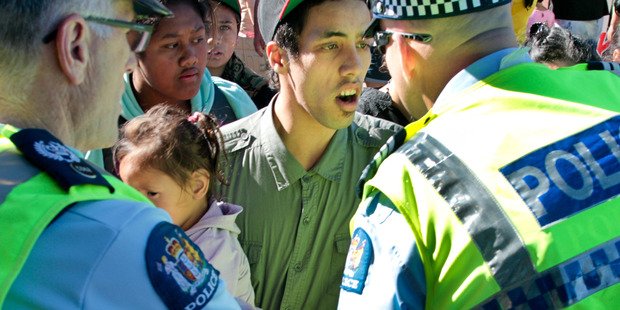 A rock and a ball were allegedly thrown at Prime Minister John Key's limousine in the Napier suburb of Maraenui yesterday.
Police arrested a 22-year-old man and charged him with disorderly behaviour.
Mr Key was forced to stand by as children chanted anti-Government slogans to his face and an egg was thrown at his car.
He said they were idle, mindless acts: "These kids were about 10 or 12 and were saying things they didn't understand. It's the school holidays so I suppose it is something to do."
Mr Key's visit to a Housing New Zealand redevelopment was greeted by 10 adult protesters with about 25 children in support chanting: "One, two, three, four, stop the war on the poor," and "Maraenui under attack, stand up, fight back".
A police line prevented the group crossing the road to where Mr Key entered the new housing block.
Placards and comments shouted by veteran protester Chantelle Brown covered child poverty, legal highs and the forced relocation of Housing New Zealand tenants for Government state-housing changes. The redevelopment removed a two-level multi-home building and replaced it with seven two-bedroom units for elderly people and a shared green space. Mr Key said: "I grew up in a state house and it didn't look anything like this - this is beautiful."
New resident Crete Pinkham, 72, said it was a world apart from her former home in nearby Geddes Ave.
"It was cold and damp and full of mould - we couldn't get rid of it," she said.
Her grandsons, one earlier wearing a Mongrel Mob patch, performed a haka for Mr Key.
At Ms Pinkham's back gate, he had to wait two or three minutes for his limousine. Children congregated, the older ones holding Mana Party flags.
The older children resumed the Stop the war on the poor chant and the younger ones joined in.
Mr Key's security convoy drove up an alley behind the Maraenui shops and he walked across the road to his car as the crowd grew in size to include the earlier protesters. He got into his car, which left sporting an egg on the windscreen.
Police were seen to arrest a man who had been holding a young child. The 22-year-old charged with disorderly behaviour was from Napier.
Mr Key made the dismissive comments about the children later at Napier Boys' High School, where he held a forum with senior Hawke's Bay secondary school students.