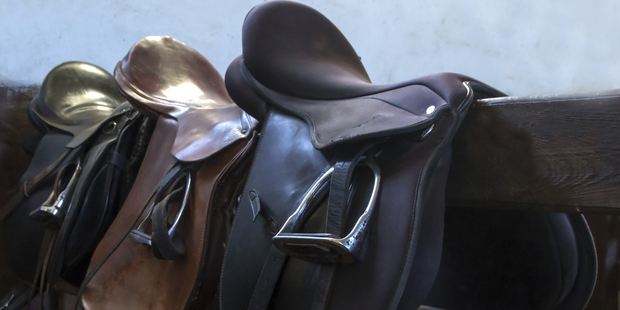 With four children and eight horses at home, Adrienne Mason and husband Darryl Mason are not about to experience the effects of empty-nest syndrome any time soon.
So when son Josh Adamson finished school he had the blessings of the Hawke's Bay couple to pursue his Mounted Games dreams in the United Kingdom.
A 2013 NZMGA Open individual champion and the open pair and open teams champion in the code at the NRM Horse of the Year Show last month, the former Napier Boys' High School pupil jetted off shortly after for a two-year stint.
"He's got a youth mobility visa," says the mother of the 18-year-old who is working and living with English rider Katie Barrett whose family own an engineering business in Aylesbury, after an arduous 40-hour flight via Singapore.
Barrett was part of the England team last year who were runners-up at the world championship in Hastings.
A family billeted her here when the Kiwis won.
Adamson has plans to study engineering and IT at university when he returns.
"He's not getting paid to ride there but sometimes he'll get some money if he can but he can't survive on it," she explains.
A New Zealand representative, Adamson has been selected to compete in the World Mounted Games Championship in France in August.
His 13-year-old gelding pony, Trigger, joined him a few weeks later in England.
"He'll eventually sell Trigger in the UK," Mason says of the title-winning horse who he has been competing on there in inter-country competitions.
The other national representatives to the world championship are Amy Wiltshire, of the Bay, Steven Hooker, originally from Waikato, Hannah Burrows, of Auckland and Dee Cheerington, of Northland, who lives in the UK and has numerous world games titles.
Jasmine Fawcett, of Waikato, is the first reserve of the Colin Carson-coached team.
Amie Bentall, of the Bay but studying in Auckland, retired after last year's world champs.
The Kiwi contingent will be defending the title they won at the Hoy Show last year.
A diligent pupil, Adamson flirted with eventing and showjumping from the age of 11 but five years ago he found considerable traction with mounted games.
"It's fun, fast and gets the adrenalin flowing so he just loves it," Mason says of the teenager who also played rugby and soccer at NBHS.
He first gravitated to things equine when he saw his cousin, Jessica Nelson, a former Chilton St James pupil (Lower Hutt) now living in the United States, riding one day.
His 13-year-old sister, Danielle Dewar, enjoy mounted games, too, and the former is into eventing as well.
Step sister Courtney Mason, 17, of Napier Girls' High School, teamed up with Danielle Dewar to clinch the NZMGA under-17 NZ pairs title at the Hoy Show last month.
He and Kevin Egging, of Waikato, won the NZ Open Pairs Championship.
Courtney's sister, Rylee, 10, also rides.
Mother Mason says Adamson is the youngest Kiwi rider to hold all three national titles (open individual, pairs and teams) simultaneously.
All up it has cost the family $20,000 to send him and the mount to the UK but Mason says it'll be a great life's experience for the talented teenager.
Eastern trucks in Onekawa sponsored him in the pairs competition.