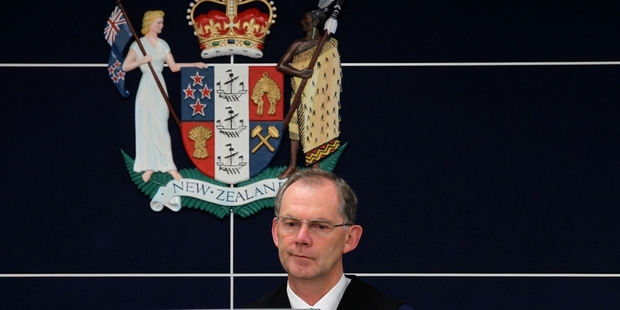 Officers involved in a deadly shootout with a Hastings teenager believed they were going to die in a barrage of gunfire.
The inquest into the 14-shot volley which killed Lachan Kelly-Tumarae, 19, saw the three officers involved give evidence yesterday. In emotional testimony, they told how they believed they would die.
The officers all spoke behind a curtain of whiteboards and boxes, with their voices electronically distorted, adding to the mystery on day two of the inquest into the death of Mr Kelly-Tumarae, who was shot dead by "officer six" on March 28, 2011.
The shooting came as Mr Kelly-Tumarae exited a vehicle near a State Highway 50 marae cemetery, following a 14km pursuit from Napier after aiming a shotgun at police.
Officer six, who fired all 14 shots, told the inquest he believed he and his fellow officers would die as Mr Kelly-Tumarae, looking like a "Mexican bandito", aimed his shotgun at police.
"I prepared and pulled up about 15m from the back of his vehicle. A patrol vehicle flew past me on the right and was only about 2m from Mr Kelly-Tumarae's car. I thought 'what are they doing'."
Officers 11 and 12 had stopped alongside the armed Flaxmere man, placing them essentially in a killing zone.
"[Mr Kelly-Tumarae] looked like he meant business and wanted to kill whoever was in the vehicle," officer six said.
"I'm going to see brains coming out the other side of the vehicle," he remembered thinking at the time.
"He looked down the barrel in a slow and calculated aim."
The experienced officer stepped out of the car and shouted "armed police" before Mr Kelly-Tumarae turned to face him.
"The barrel was pointed in my direction and I thought he was going to shoot me. I thought I was going to wear it."
Believing he was about to be attacked, officer six fired "four to five" rounds at the offender.
"I thought, 'He's still standing and still facing me. I haven't hit him'."
The officer fired another five or so shots before Mr Kelly-Tumarae ran towards the cemetery, dropped his gun and collapsed.
"I wanted to dominate him, I wanted to be aggressive and wanted to go home that night."
After walking towards Mr Kelly-Tumarae, he said the teenager looked "white as a sheet" and "dead".
"I wish this had never happened. I wish he had pulled over somewhere else," he said. "There's not a day that goes by that I don't think about it.
"I don't regret my actions as a police officer ... I took an oath and my job was to protect those two officers."
Officer 11 was in the passenger seat of a patrol car, driven by officer 12, which pulled up alongside Mr Kelly-Tumarae's car.
He believed officer 12 had made a crucial mistake by driving so close, endangering his and officer 12's life.
The veteran policeman recalled officer 12 had said "shall we pull in front of him" or "shall we cut him off" as they approached Mr Kelly-Tumarae but he didn't have time to respond.
The 19-year-old left his vehicle, with the shotgun in one hand and an ammo belt around his shoulders, stared and smiled at officer 11 with a "big grin" before raising the weapon.
Trapped in the car by his seatbelt, the policeman "froze" as Mr Kelly-Tumarae took aim.
"It made me think I was about to be shot. I thought I was going to die then and there."
He said the teenager became distracted which likely "saved my life" before shouting and shots erupted in the street.
Officer 11 said as Mr Kelly-Tumarae was being cuffed and arrested by fellow officers, the teenager was yelling at the police while lying in a "pool of blood".
Officer 12 said the reason behind stopping parallel to Mr Kelly-Tumarae was due to orders to become the lead vehicle in the pursuit. Officer 12, with only a few years of policing experience, quickly realised the danger he had placed himself and officer 11 in when the armed teen left the car.
"He was standing basically at the centre of our bonnet looking at us ... He was almost smiling, laughing at us as he did it.
"He was wearing a red t-shirt and had his ammo belt slung across his shoulders, Rambo style ... That image has stuck in my mind ever since that day."
After the teenager ran, officer 12 heard four quick shots and, after drawing his Glock pistol, approached the heavily wounded 19-year-old. His only regret was placing himself and officer 11 under "greater threat and danger" when he "screeched to a halt" beside Mr Kelly-Tumarae. He said the lack of experience and training added to the mistakes he made during the shooting.
"This is an event I hope not to relive for the rest of my life ... I don't think any amount of training could prepare you for the real thing. I think about it every day. It consumes a huge amount of your life."
Coroner Peter Ryan said he was not in a position to make his findings yesterday and asked for police to present him with all relevant changes for Eastern District training policies before coming to a written finding in "some weeks". He thanked the family for attending the inquest and hoped it provided a better understanding of the night.
"I hope when I do make my findings, the family will be able to find some closure."
Mr Kelly-Tumarae's grandmother, Narina Tumarae, told Hawke's Bay Today outside court the truth remained hidden.
She said it was good to "hear the voices" of the officers involved but wished they hadn't been shrouded from the family.
"I question a lot of what they have to say.
"They wasted his life and a lot of it doesn't add up.
"Whatever he comes back with, it can't bring my moko back."
Last year, the Independent Police Conduct Authority declared the shooting was justified because of the threats to the officer's safety. The authority also found the actions of officers 11 and 12 to be "risky and ill-considered", "unreasonable and unjustified" and "limiting tactical options".