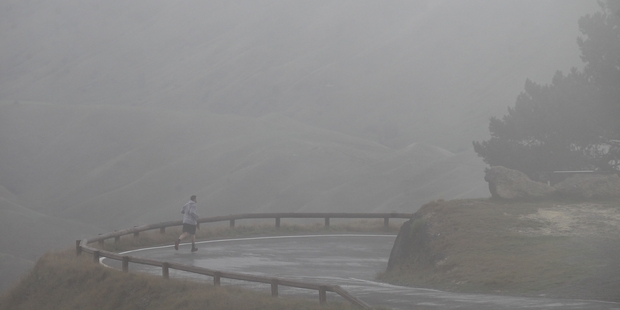 Hawke's Bay has endured more than three-quarters of its monthly rainfall in the first two weeks of April.
MetService meteorologist Daniel Corbett said the region had been soaked by two subtropical lows, with more than average amounts rain falling in April across the twin cities.
"In the last couple of days there has been a subtropical low coming down through Bay of Plenty and Gisborne."
As of yesterday, just 11 days into April, rainfall in Napier for the month measured 55mm - the total April average is 79.9mm.
In Hastings the monthly average is 71mm and 51mm has fallen so far.
The Takapau Plains, with 87mm, has already exceeded the monthly average of 73mm.
In Mahia 64mm has fallen with the average being 117mm.
Mr Corbett said for today's Black Sticks v Australia Festival of Hockey game in Hastings at 3.30pm a westerly wind would help dry the region out but a southerly change might bring more showers for the opening whistle.
But the wet weather will not deter a Hastings family from enjoying the hockey tournament.
Hastings resident Sally Kerr said her husband David and two children William, 11, and Annabel, 10, would don their jackets and plastic ponchos to brave the elements in the "cheap seats".
"It's been fantastic to have a world-class event like this in Hawke's Bay," she said.
"We've been to every game and we wouldn't miss any of the games no matter what the weather is.
"I guess we are used to beautiful sunshine in Hawke's Bay."
Mr Corbett said the temperatures over the past week had remained mild due to a humid spell, keeping the mercury in the early 20s.
"It will drop to 11C, 12C overnight and Sunday morning with the southerly change," Mr Corbett said. "It is very active April weather."
After the week of wet weather highway slip-clearance crews have upped their patrols with several small slips already reported.
"We have had some minor slips on SH2 between Napier and Gisborne, but they were cleared up pretty quickly as road crews have gone through," New Zealand Transport Agency regional highways manager Chuck Dowdell said.
None of the slips were sufficient to seriously affect traffic flows and were in areas that had a past record of being slip prone so were regularly being checked out.
Slips were reported between Tangoio and Tutira, while on SH5 between Napier and Taupo minor slips had come down between Te Pohue and the Mohaka Bridge.
"We are closely monitoring our highway network with crews patrolling during times of heavy rain and are available 24/7 to respond quickly to any emergencies," Mr Dowdell said.
"The nature of the terrain in our region means that slips are a reality when bad weather strikes."
Most could be cleaned up quickly without road closures.
Mr Dowdell said the public had a valuable part to play to ensure the highways stayed open and safe.
"If anyone comes across a slip, debris or any other hazard, we encourage them to pull over to a safe place and call 0800 4 HIGHWAYS to report it."
The MetService forecast for Napier and Hastings today is a high of 21C, fine at first with showers developing in the afternoon with southwesterly change.
Showery periods were likely to remain tomorrow and Monday before a another belt of rain arrived midweek.
MetService also issued a severe weather watch for Hawke's Bay yesterday .
The watch said the subtropical low was bringing heavy rain to northern Hawke's Bay and might spread to the rest of the region before clearing in the evening.
MetService also said the threat of localised heavy downpours associated with thunderstorms were likely.
For Central Hawke's Bay the risk of heavy rain remained until early this morning.
People in those areas were advised to keep up to date with the latest forecasts and check for updates to the watch and warning, MetService said.