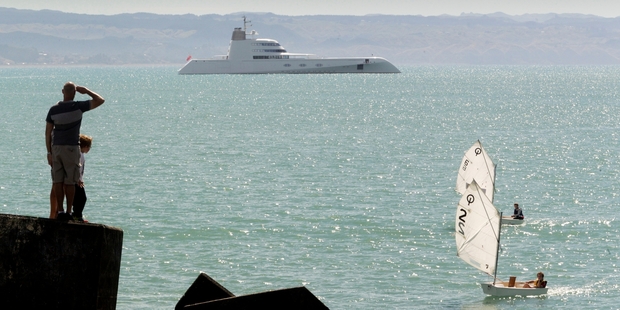 Napier woke to one of the world's most spectacular superyachts yesterday morning.
The $350 million ship dropped anchor outside Napier Port's entrance, where it was due to dock for the day.
It is owned by Russian chemical and fertiliser magnate Andrey Melnichenko, who is worth an estimated $17.2 billion.
Based in Auckland since September for maintenance, it has recently started cruising New Zealand's scenic spots.
At 119m long it is the largest superyacht to have visited New Zealand and is 1m longer than New Zealand's two warships, the frigates Te Kaha and Te Mana. The biggest New Zealand-owned superyacht is Graham Hart's 77m Weta.
It was built in Germany in 2008 by the same Hamburg firm that built the World War II battleship Bismarck.
The Wall Street Journal reported that at the top of a spiral staircase lined with scalloped, silver-leaf walls is a door with a fingerprint security system.
"It opens to an all-white, 2583-square-foot master suite wrapped in bomb-proof, 44mm glass," it reported.
It is simply called A, after Melnichenko's wife Aleksandra - a former Serbian model and singer he married in a $36 million ceremony.
The yacht's unique design would make it difficult for pirates to board and the stark design polarises opinions - people either love or hate it.
"With its radical shape - more sleek submarine than boxy pleasure boat - and reams of custom parts and finishes (including bath knobs costing US$40,000 ($46,211) apiece, A is a conspicuous marker of an ocean-going plutocracy that's largely been untouched by the recession," the Journal reported.
It said the Melnichenkos made frequent changes in itinerary and spent little time in any one port, preferring to roam at will.
Melnichenko founded a bank in 1993 and then moved into energy, steel and fertiliser companies. He reportedly sued a paint company for more than $120 million after a poor paint job on A.
David Elliot, of Hastings, said an "old school" tender (small boat) had made a return trip to Ahuriri and had been lifted back on board at the stern of the ship.
Andy Joseph, of Hastings, said it added to the sparkling waterfront spectacle of yacht and swimming races.
"I think it is beautiful - just gorgeous," he said.
"It has made quite a wee backdrop to the day.
"The only thing lacking is us sitting on board."