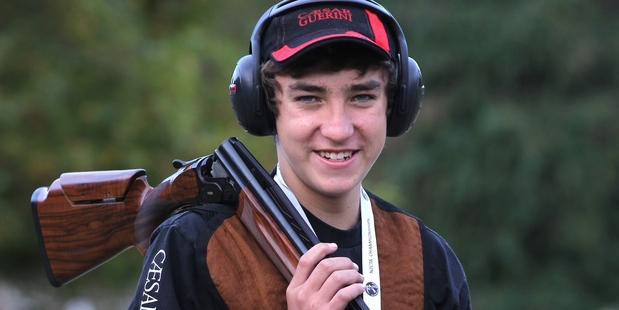 Sometimes simplicity is all that is required in attaining success at any level of sports.
That is, when psychobabble gives way to spontaneity and candour.
Cody Gill is a testimony to that philosophy.
"See it, shoot it," says the 14-year-old when you ask him how he prepares for clay target shooting.
Few will argue with the Karamu High School year 10 pupil after he became the country's best when he clinched gold at the New Zealand Clay Target Shooting Championship held in Hamilton early this month.
The teenager is the prince of the under-18s, winning the handicap-by-distance event which is about 17m from the trap house at the tourney (March 1-8).
Gill, using his 12-gauge, under-and-and-over Caesar Guerini shotgun, was one of two juniors among eight seniors to shoot 49 out of 50 clay pigeons.
"It's [shotgun] expensive but you get what you pay for," he says of the firearm his father, Malcolm, bought for him about 18 months ago.
In the impending shoot-off, Gill made short work of his rival in making a "kill" of his first clay pigeon hurtling between 80 to 120km/h after his competitor's registered a "bird away" (missed).
In the world championship category (March 10-13), including under-21s, the teenager quickly learned he has some ground to make up.
It isn't an easy feat chasing a pigeon, 6cm-9cm in diameter, released from a spring-loaded flywheel on the shooter's command of "Pull!"
The Hawke's Bay Gun Club member took up the sport "because it gets me outside".
A school hockey player, he went along to the club range along Maraekakaho Rd one day on the invitation of a friend to find shooting pretty uncomplicated.
Unlike the turf code, clay target actually has a soothing effect on him.
"Shooting relaxes me and hockey is full on."
Ask him if he's a natural and he laughs but his mantelpiece of silverware negates his modesty.
No doubt, the adrenaline rush from shooting was initially there.
"You kind of get over it [the thrill aspect of shooting] after a while," he says, emphasising he employs a form of meditative deep-breath routine to focus before reacting in half a millisecond to the target.
That is not to say Gill is the epitome of serenity.
Like many sportspeople, he likes to lift the lid on frustration to let off some steam.
Remarkably he didn't have any formal training although he is no stranger to firearms as his father goes deer hunting.
His school coach, Nigel Field, gave him the primary tips to find traction before Shane Ashforth came into the equation last year.
"Shane's helped me win that medal," Gill says, adding the Bay coach changed his stance in keeping the shotgun barrel down on his foot to watch the clay pigeon emerge rather than stay cocked on the shoulder.
He practises every Wednesday with school mates, discharging 50 shots.
It can end in 10 to 15 minutes or take up to an hour, depending on how experienced the individual is in feeding the flywheel.
On Monday, the school recognised his champion status when he received his medal at the school assembly.
The difference between deer hunting and clay pigeons is relatively day and night if you ask the Gills. In the wild, the target is uphill and stationary requiring a bullet in a rifle.
"In a shotgun you have a spread [of pellets to hit a rapidly moving clay pigeon]."
He occasionally goes deer hunting with his father but clay target is his main passion.
Gill has designs on representing New Zealand in the Olympic Games someday but realism prevents him from getting too far ahead of himself.
"It's my decision and that's a wee while away."
Field, who also is Bay club president, says the club and school is proud of Gill who beat many international shooters using the champs to build for the World Champs a week later.
"He knew James Fulford, who was shooting for Karamu, and he immediately fitted in well as a quiet achiever."
Fulford was fourth in the juniors at the World Champs and has claimed a berth in the New Zealand Open team to compete internationally.
The Karamu High team he practised with included the North Island secondary school champion James Linnell, the Central and Lower North Island single barrel champion Oliver Withers and the national secondary schools' single barrel silver medallist Harry Smith.
"Cody has had the advantage of being around top level shooters in the secondary schools' competitions and at the club level.
"His quiet manner and obvious talent mean that elite shooters will offer him advice and he listens to it," says Field.
Several club members tested Gill's demeanour recently on a trip back from a shoot at Dannevirke. It evolved around anyone winning a medal that day treating others to some food.
Gill claimed three medals and, much to his consternation, the men in the truck were packing hefty appetites.
"They let Cody think he was to foot a rather large bill until the time to pay when they in fact shouted him in recognition of his success," says the schoolteacher who also doubles up as manager of the school team.